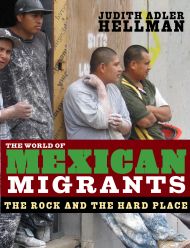 | | |
| --- | --- |
| Author: | Judith Adler Hellman |
| Published: | July 2009 |
| Publisher: | The New Press |
Widely praised as a splendid addition to the literature on the great wave of post–1970 immigration from Mexico—as a result of which an estimated 6 million undocumented Mexican migrants now live in the United States—The World of Mexican Migrants, by acclaimed author Judith Adler Hellman, takes us into the lives of those who, no longer able to eke out even a modest living in their homeland, have traveled north to find jobs.
"A sympathetic, wide-ranging portrait of the lives of Mexicans on both sides of the border."
-- Kirkus Reviews
"Hellman's extraordinarily wide-ranging and painstaking field research not only puts a human face on the abstractions of large-scale Mexican migration to the United States; her work helps the reader understand the big policy issues raised by this population movement."
-- Wayne A. Cornelius, director, Center for Comparative Immigration Studies
Listed as one of Choice Magazine's "Outstanding Academic Titles" for 2008.
Read the Y-File article: "Professor's book named a Choice Outstanding Academic Title"
Read the review in Cambridge Journals
Read the review in The Americas