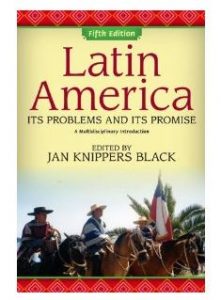 | | |
| --- | --- |
| Author: | Edited by Jan Knippers |
| Published: | September 2010 |
| Publisher: | Perseus Academic |
(with articles by CERLAC Fellows Jorge Nef and Liisa L. North)
Now in a fifth edition, Latin America has been updated to reflect the region's growing optimism as economies stabilize, trade diversifies, and political systems become more participatory. This multidisciplinary survey of Latin American history, politics, and society features invited contributions from authorities in a variety of fields. New sections address current events including deforestation in Costa Rica and Brazil, emerging social movements, Ecuador's new constitution, and Obama's stated objectives to repair U.S. relations with the region. In addition, key topics—such as women and Latin American politics, socialist governments and anti-American sentiment, Argentina's deteriorating economy, and Colombia's struggle with military and narcotics issues—receive expanded and revitalized treatment. Other updated material covers outcomes of recent elections in Bolivia, Brazil, and Nicaragua, among others. Through a hybrid thematic and regional organization, this text provides an essential foundation for introductory courses on Latin America.
Praise for Previous Editions

"Prof. Jan Knippers Black's updated textbook is the ideal resource for any interdisciplinary survey of Latin America. It's new chapters are especially welcome in the sense that the more current trends in interdisciplinary research on Latin America are brought to the reader's attention clearly and forcefully."
—James D. Huck, Tulane University's Stone Center for Latin American Studies
"This provocative textbook offers comprehensive articles on Latin America by some leading experts in the field. They cover all the major issues and countries, including historical background as well as recent events."
—Paul Drake, Dean of Social Sciences, University of California, San Diego
"This is a superb collection of essays on the Latin American reality in the age of globalization. Eminently accessible, timely, and informative, this is an ideal primer for the classroom or simply for those seeking a well-rounded overview of Latin American affairs."
—William I. Robinson, University of California, Santa Barbara.