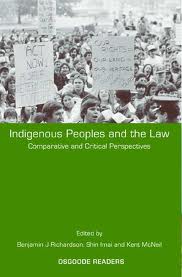 | | |
| --- | --- |
| Author: | Benjamin J Richardson, Shin Imai, Kent McNeil (Editors) |
| Published: | March 2009 |
| Publisher: | Hart Publishing |
Indigenous Peoples and the Law provides an historical, comparative and contextual analysis of various legal and policy issues affecting Indigenous peoples. It focuses on the common law jurisdictions of Australia, Canada, New Zealand and the United States, as well as relevant international law developments. Edited by Benjamin J Richardson, Shin Imai, and Kent McNeil, this collection of new essays features 13 contributors including many Indigenous scholars, drawn from around the world. The book provides a pithy overview of the subject-matter, enabling readers to appreciate the seminal issues, precedents and international legal trends of most concern to Indigenous peoples.
The first half of Indigenous Peoples and the Law takes an historical perspective of the principal jurisdictions, canvassing, in particular, themes of Indigenous sovereignty, status and identity, and the movement for Indigenous self-determination. It also examines these issues in an international context, including the Inter-American human rights regime and the 2007 UN Declaration on the Rights of Indigenous Peoples. The second part of the book canvasses some contemporary issues and claims of Indigenous peoples, including land rights, mobility rights, community self-governance, environmental governance, alternative dispute resolution processes, the legal status of Aboriginal women and the place of Indigenous legal traditions and legal theory.
Although an introductory volume designed primarily for readers without advanced understanding of Indigenous legal issues, Indigenous Peoples and the Law should also appeal to seasoned scholars, policy-makers, lawyers and others who are knowledgeable of such issues in their own jurisdiction and wish to learn more about developments in other places.