When:
October 12, 2016 @ 2:30 pm – 3:30 pm
2016-10-12T14:30:00-04:00
2016-10-12T15:30:00-04:00
Where:
Kaneff Tower Room 901 (Ninth Floor)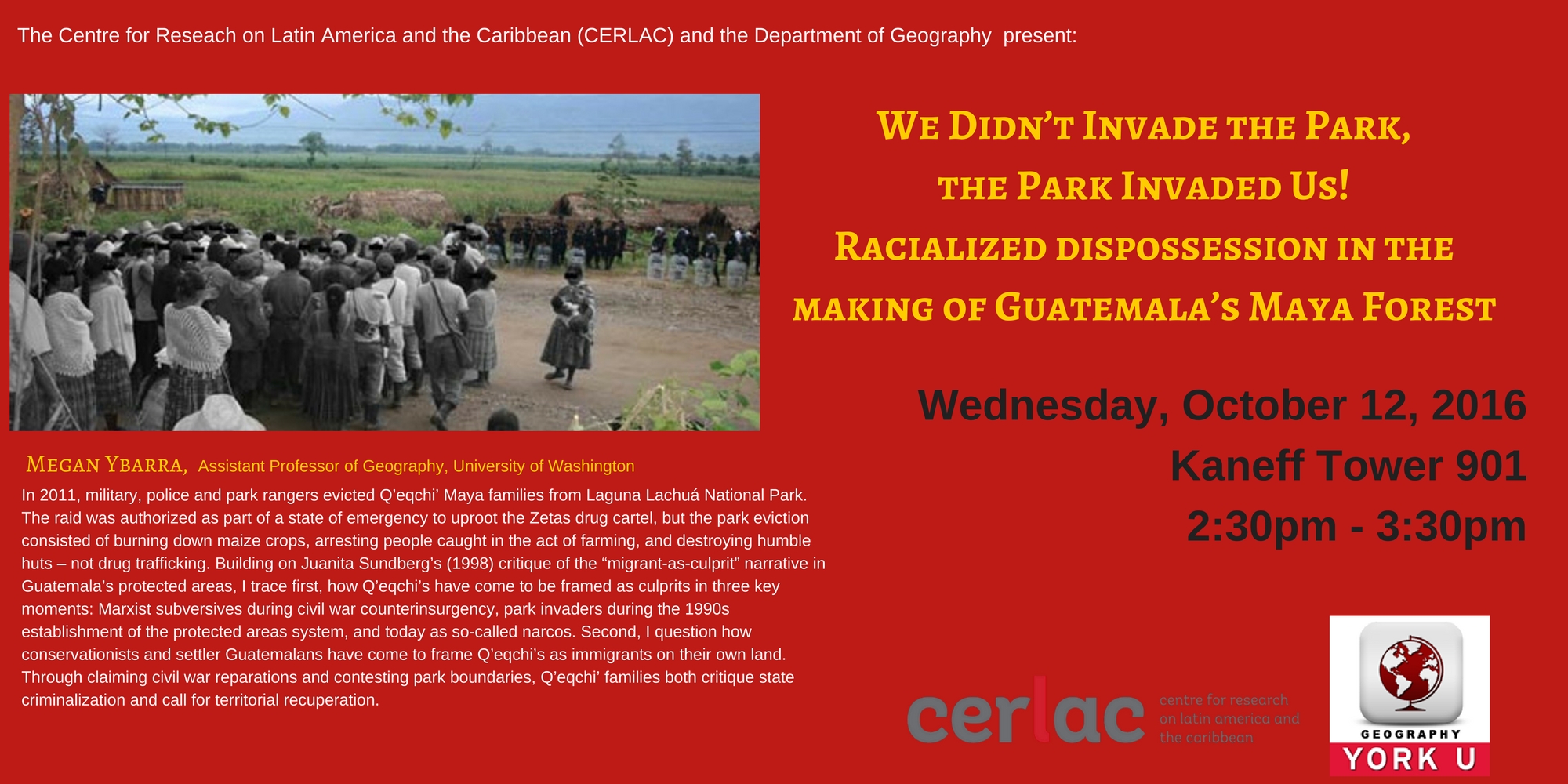 We Didn't Invade the Park, the Park Invaded Us!
Racialized dispossession in the making of Guatemala's Maya Forest. Talk by Megan Ybarra.

Wednesday, October 12, 2016
Kaneff Tower 901
2:30 – 3:30
All are welcome!
In 2011, military, police and park rangers evicted Q'eqchi' Maya families from Laguna Lachuá National Park. The raid was authorized as part of a state of emergency to uproot the Zetas drug cartel, but the park eviction consisted of burning down maize crops, arresting people caught in the act of farming, and destroying humble huts – not drug trafficking. Building on Juanita Sundberg's (1998) critique of the "migrant-as-culprit" narrative in Guatemala's protected areas, I trace first, how Q'eqchi's have come to be framed as culprits in three key moments: Marxist subversives during civil war counterinsurgency, park invaders during the 1990s establishment of the protected areas system, and today as so-called narcos. Second, I question how conservationists and settler Guatemalans have come to frame Q'eqchi's as immigrants on their own land. Through claiming civil war reparations and contesting park boundaries, Q'eqchi' families both critique state criminalization and call for territorial recuperation.