When:
October 16, 2017 @ 4:30 pm – 6:30 pm
2017-10-16T16:30:00-04:00
2017-10-16T18:30:00-04:00
Where:
Kaneff Tower 519
4700 Keele St
Toronto, ON M3K 1P3
Canada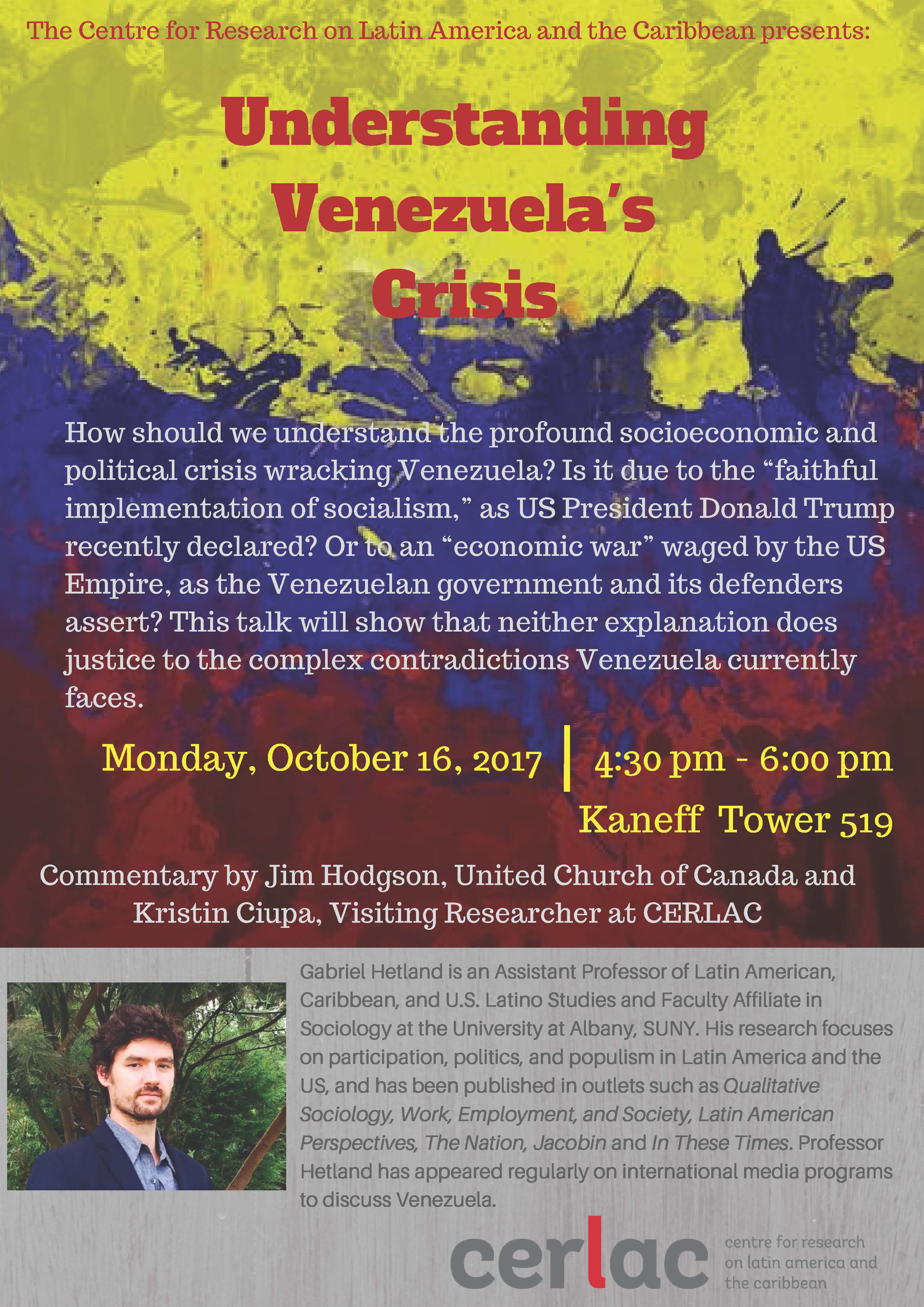 Understanding Venezuela's Crisis
Monday, October 16, 2017
Kaneff tower 519
4:30pm - 6:30pm
All are welcome!
How should we understand the profound socioeconomic and political crisis wracking Venezuela? Is it due to the "faithful implementation of socialism," as US President Donald Trump recently declared? Or to an "economic war" waged by the US Empire, as the Venezuelan government and its defenders assert? This talk will show that neither explanation does justice to the complex contradictions Venezuela currently faces. Understanding these contradictions requires placing Venezuela's current crisis within the context of the entire Chavista period. This talk will do this, by examining the three major periods of Chavismo: an initial period (1998-2004) marked by open experimentation and intense social and political conflict; a "golden era" of Chavista hegemony (2005-2013) marked by major social and political gains, and a failure to recognize and correct underlying weakness of the "Chavista model"; and the current period (2014-2017) of full-blown crisis, marked by opposition violence, economic mismanagement, and the government's authoritarian turn. The talk will examine two central questions: Was Venezuela's current crisis inevitable? If not, when and how did things go wrong?
Commentary by Jim Hodgson, United Church of Canada and Kristin Ciupa, Visiting Researcher at CERLAC.
Bio: Gabriel Hetland is an Assistant Professor of Latin American, Caribbean, and U.S. Latino Studies and Faculty Affiliate in Sociology at the University at Albany, SUNY. His research focuses on participation, politics, and populism in Latin America and the US, and has been published in outlets such as Qualitative Sociology, Work, Employment, and Society, Latin American Perspectives, The Nation, Jacobin and In These Times. Professor Hetland has appeared regularly on international media programs to discuss Venezuela.
CERLAC gratefully acknowledges the support of the Faculty of Liberal Arts and Professional Studies towards this event