When:
June 22, 2016 @ 2:00 pm – 4:00 pm
2016-06-22T14:00:00-04:00
2016-06-22T16:00:00-04:00
Where:
Kaneff Tower Room 956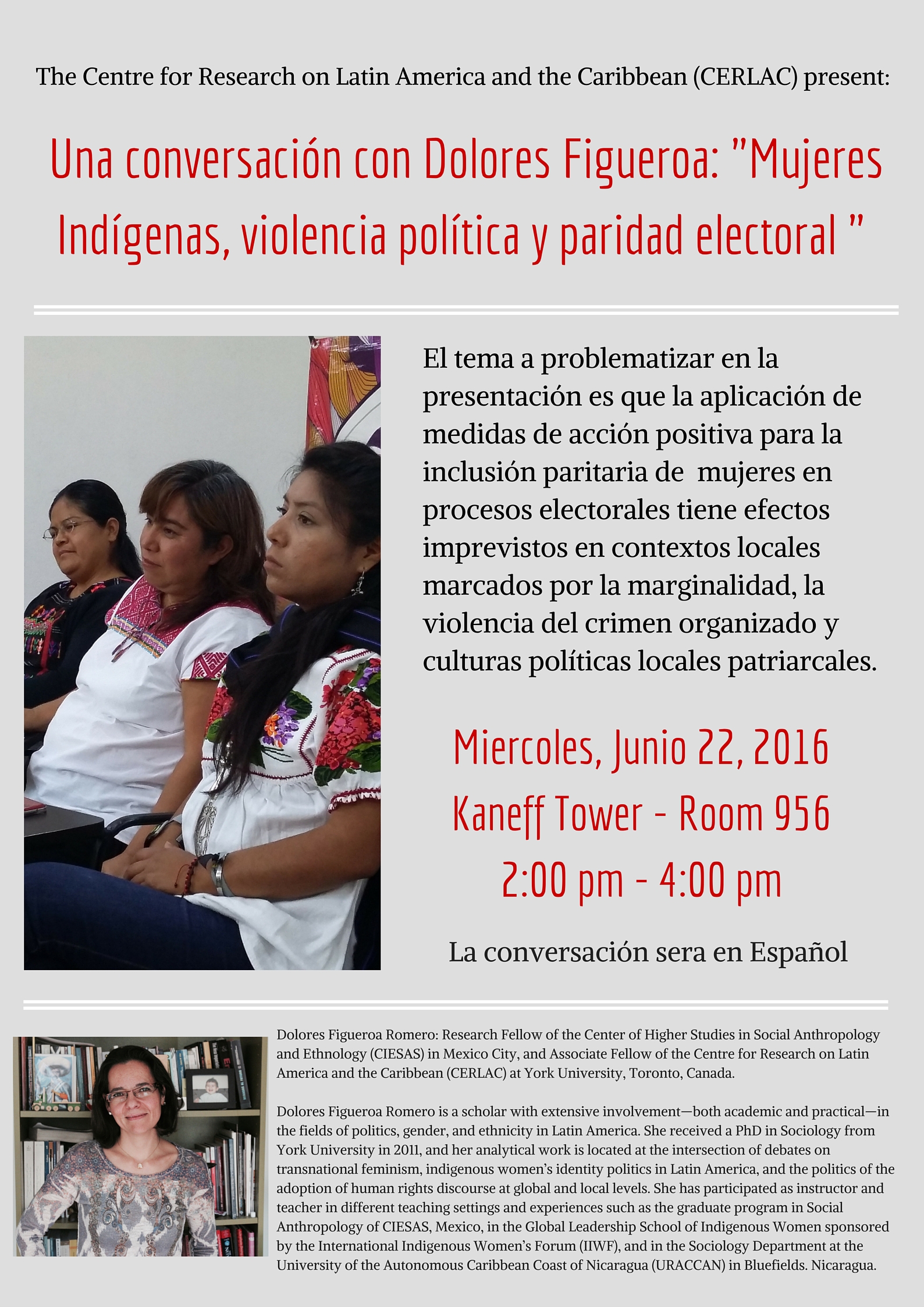 Una conversacion con Dolores Figueroa: "Mujeres Indigenas, violencia politica y paridad electoral"
Martes, Junio 22, 2016
Kaneff Tower - Roon 956
2:00 pm – 4:00 pm

All are welcome!
El tema a problematizar en la presentación es que la aplicación de medidas de acción positiva para la inclusión paritaria de  mujeres en procesos electorales tiene efectos imprevistos en contextos locales marcados por la marginalidad, la violencia del crimen organizado y culturas políticas locales patriarcales.
Dolores Figueroa Romero: Dolores Figueroa Romero: Research Fellow of the Center of Higher Studies in Social Anthropology and Ethnology (CIESAS) in Mexico City, and Associate Fellow of the Centre for Research on Latin America and the Caribbean (CERLAC) at York University, Toronto, Canada.
Dolores Figueroa Romero is a young scholar with extensive involvement—both academic and practical—in the fields of politics, gender, and ethnicity in Latin America. She received a PhD in Sociology from York University in 2011, and her analytical work is located at the intersection of debates on transnational feminism, indigenous women's identity politics in Latin America, and the politics of the adoption of human rights discourse at global and local levels. She has participated as instructor and teacher in different teaching settings and experiences such as the graduate program in Social Anthropology of CIESAS, Mexico, in the Global Leadership School of Indigenous Women sponsored by the International Indigenous Women's Forum (IIWF), and in the Sociology Department at the University of the Autonomous Caribbean Coast of Nicaragua (URACCAN) in Bluefields. Nicaragua.