When:
July 11, 2015 @ 1:00 pm – 4:00 pm
2015-07-11T13:00:00-04:00
2015-07-11T16:00:00-04:00
Where:
Founders Assembly Hall

All are invited to participate in the Poet-Tree Project!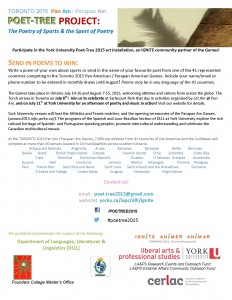 As a member of the Latin American Working Group of the Toronto 2015 Pan American / Parapan American Games, and of the Organizing Committee of the Torch Day Event and the Lat Am @ Pan Am Pavillion group, I would like to extend to you a warm invitation to be an active participant in some of upcoming events, including our IGNITE! ANIME! ¡ANIMAR! community project titled "Toronto 2015 Pan Am Parapan Am Poet-Tree Project: The Poetry of Sports & the Sport of Poetry."
The idea behind IGNITE is to connect and be inspired by the coming of the Games in Toronto and to celebrate the spirit of its values of "Joy, purpose, accountability, collaboration and results" (http://www.toronto2015.org/) These values serve as guideposts to share our passion for literature and its connections to Canada's hosting of the Games to express this in artistic and cultural forms, such as poetry.
This interactive challenge for Canadian and international citizens who wish to express their love of the sports and of their culture in this creative way, is simple, accessible to all ages and peoples wherever they are in the Americas. Previous iterations linking poetry to global sports events, such as that of York University Professor Priscila Uppal  in 2012 during the London Olympic Games, and her unique participation as poet-in-residence at the 2010 Vancouver Winter Olympics, are related to this project in principle linking sport and poetry during common international events. Professor Uppal has sent in poems to the Poet-Tree Project which are among those highlighted on the installation.
The Poet-Tree project at York University features a poetry art installation and related webpages inspired by poems or poet's names from the diverse regions of the Americas, to celebrate the sports and the spirit of the culture of each place, and in particular of the excitement and connection to the TORONTO 2015 Pan Am / Parapan Am Games. The materials of the installation and posters for the project are almost completely of recycled materials, to invoke a spirit of environmental awareness and responsible sustainability of the world's natural resources. York University's spaces will serve as the location of the tennis and athletics competitions as part of the 2015 Games and at various program locations highlighting York's diversity and support for international cooperation and intercultural understanding. York University's strong commitment to multilingual study, diversity and being "open to the world," is evident in the project's aim to embody the links between innovation and tradition: Tentanda Via: The way must be tried." It is interdisciplinary, celebrating the dialogue of sport, arts and culture across traditional national borders.
The mission of the Spanish and Luso-Brazilian Section at York University includes exploring the rich cultural heritage of Spanish- and Portuguese-speaking peoples to connect with community and university-wide activities, and cultural events, and engage in cross-cultural, international networks. 2015 Pan Am / Parapan Am Poet-Tree Project: The Poetry of Sport and The Sport of Poetry supports these aims. It also ties in with my area of specialization in the fields of Pan American literature in contact with other arts, and of installation art projects involving poetry and e-components in the Americas.
Feel free to support this iteration of the celebration of sports and culture in dialogue through poetry in the way best suited to you: by sending poems of your own or the name of poets whose work you love from across the Americas to be included in the Poet-Tree; inviting your contacts to do so; and attending our upcoming events in July (on the Torch Day celebrations at Earlscourt Park at St. Clair & Caledonia Streets in Toronto, from 1-10pm or the July 11 event at York University). Attached is a brief description of the call for the Project. Feel free to circulate it to whomever you believe would be interested! And to keep up with the latest news on our website (yorku.ca/laps/dlll/ignite) and our Facebook page (/POETREE2015). Thank you!
We are planning an event on Saturday, July 11, from 1-4pm, in the Founders Assembly Hall (Keele Campus). At this event, invited guest Miguel Avero will be reading from his latest works of poetry (including La pieza and the forthcoming book La mitad ida), and give a workshop with students about his collaborative educational project "Orientación poética" which he leads in high schools with a team of poets in Uruguay. He will also reference some of his work's connection to the themes of soccer, as you know is a key sport in Latin America. Updates on schedules of sports matches can be found at the toronto2015.org website.
Please contact me if you have an questions about the Poet-Tree Project or about some of its connections to upcoming events planned for the Pan Am / Parapan Am Games at York University, at Harbourfront and many other venues across the GTA during the Games, in collaboration with the Lat Am @ Pan Am.