When:
February 11, 2016 @ 2:30 pm – 4:00 pm
2016-02-11T14:30:00-05:00
2016-02-11T16:00:00-05:00
Where:
South 674 Ross Building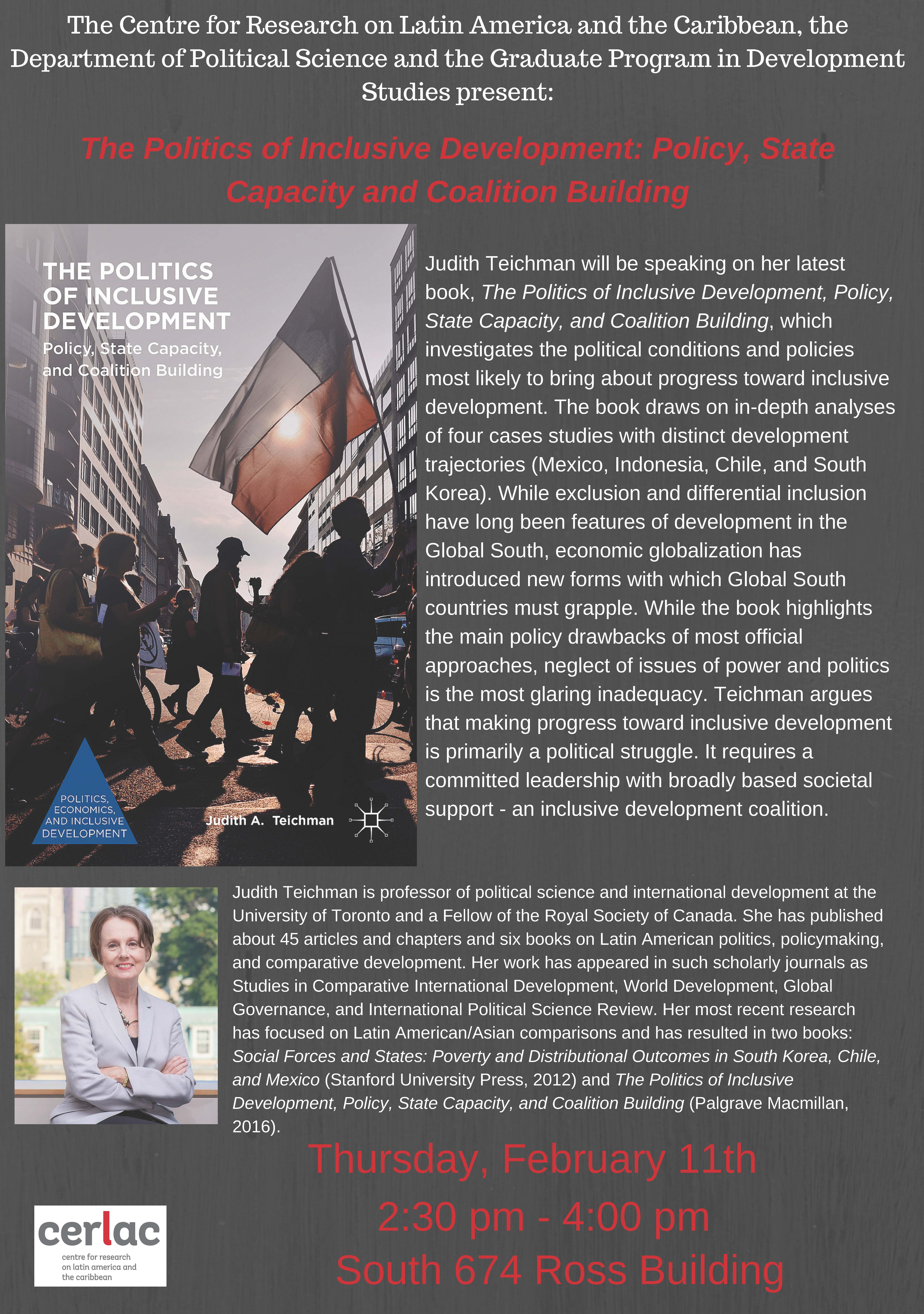 Judith Teichman will be speaking on her latest book, The Politics of Inclusive Development, Policy, State Capacity, and Coalition Building, which investigates the political conditions and policies most likely to bring about progress toward inclusive development. The book draws on in-depth analyses of four cases studies with distinct development trajectories (Mexico, Indonesia, Chile, and South Korea). While exclusion and differential inclusion have long been features of development in the Global South, economic globalization has introduced new forms with which Global South countries must grapple. While the book highlights the main policy drawbacks of most official approaches, neglect of issues of power and politics is the most glaring inadequacy. Teichman argues that making progress toward inclusive development is primarily a political struggle. It requires a committed leadership with broadly based societal support - an inclusive development coalition.
Judith Teichman is professor of political science and international development at the University of Toronto and a Fellow of the Royal Society of Canada. She has published about 45 articles and chapters and six books on Latin American politics, policymaking, and comparative development. Her work has appeared in such scholarly journals as Studies in Comparative International Development, World Development, Global Governance, and International Political Science Review. Her most recent research has focused on Latin American/Asian comparisons and has resulted in two books: Social Forces and States: Poverty and Distributional Outcomes in South Korea, Chile, and Mexico (Stanford University Press, 2012) and The Politics of Inclusive Development, Policy, State Capacity, and Coalition Building (Palgrave Macmillan, 2016).