When:
November 12, 2014 @ 2:30 pm – 4:30 pm
2014-11-12T14:30:00-05:00
2014-11-12T16:30:00-05:00
Where:
Vanier College, Room 135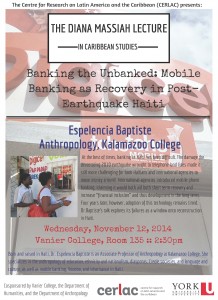 Banking the Unbanked: Mobile Banking as Recovery in Post-Earthquake Haiti
Espelencia Baptiste, Anthropology, Kalamazoo College
 The 7.0 magnitude earthquake that devastated Haiti's already poor infrastructure on January 12, 2010 exacerbated the daily challenges many Haitians face. At the best of times, banking in Haiti has been difficult, and the damage the earthquake wrought to telephone land lines made it more difficult for both ordinary Haitians and international agencies to access their accounts and move their money around. Mobile phone use, meanwhile, increased dramatically. Capitalizing on this shift, international agencies introduced mobile phone banking, not only for purposes of short-term recovery but also in the hope that it would increase "financial inclusion" and thus promote development in the long term. Four years later, however, adoption of the technology remains timid. Dr. Baptiste's talk explores this failure as a window onto the vicissitudes of post-earthquake reconstruction in Haiti.
Born and raised in Haiti, Dr. Espelencia Baptiste is an Associate Professor in the Department of Anthropology and Sociology at Kalamazoo College. She specializes in the anthropology of education, ethnicity and nationalism, diasporas, Creole societies, and language and culture, as well as mobile banking, Voodoo, and inheritance in Haiti. She has worked in Saint Lucia, Mauritius, Kenya and Haiti, and her book, How Citizens are Produced and Ethnicity Maintained in Post Colonial Mauritius with Special Attention to the Creoles: An Anthropological Study (Mellen Press) was published in 2012.