When:
November 23, 2017 @ 3:00 pm – 5:00 pm
2017-11-23T15:00:00-05:00
2017-11-23T17:00:00-05:00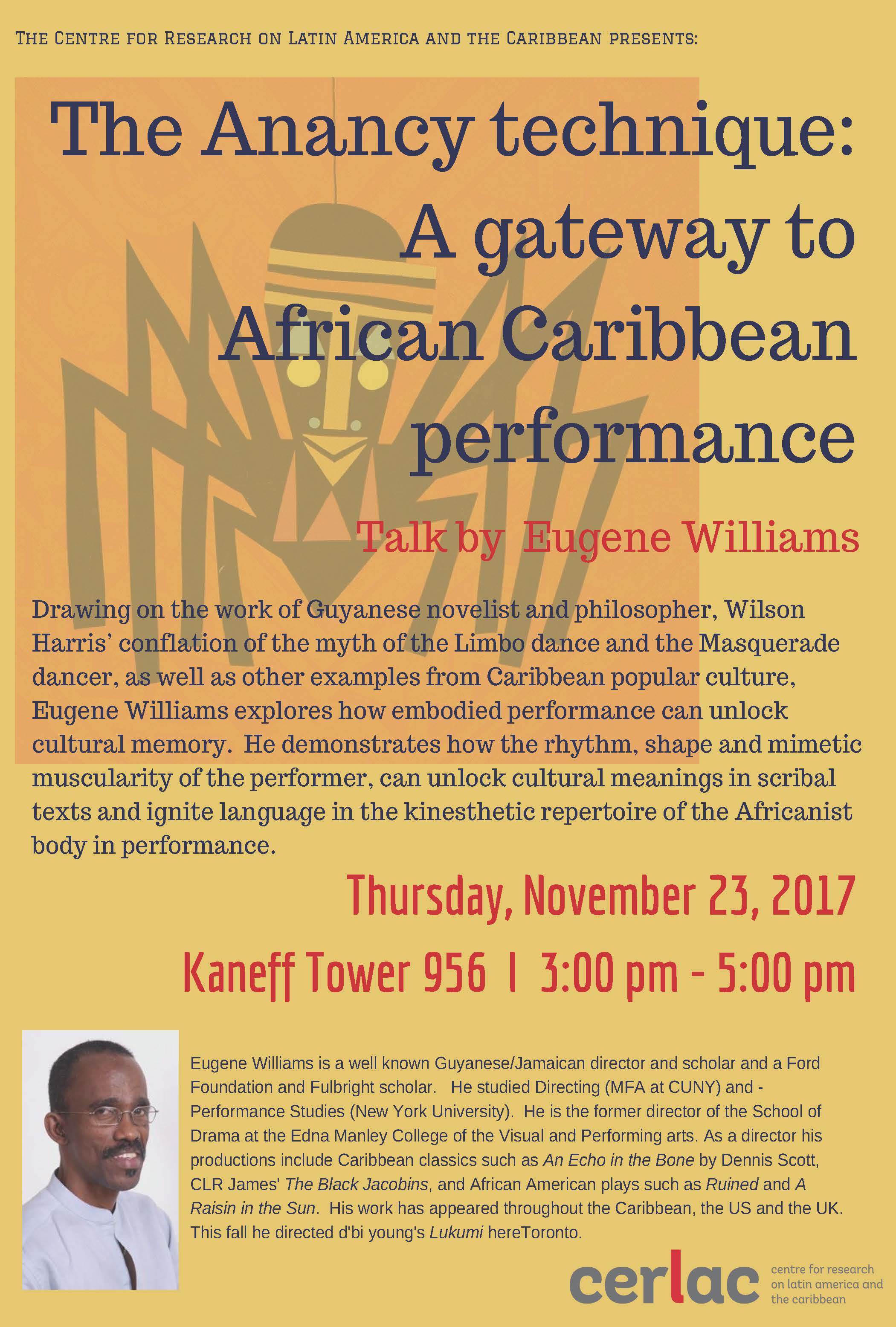 The Anancy technique: A gateway to African Caribbean performance. Talk by Eugene Williams.
Thursday, November 23, 2017
Kaneff Tower 956
3:00pm - 5:00pm
All are welcome!
Drawing on the work of Guyanese novelist and philosopher, Wilson
Harris' conflation of the myth of the Limbo dance and the Masquerade
dancer, as well as other examples from Caribbean popular culture,
Eugene Williams explores how embodied performance can unlock cultural memory. He demonstrates how the rhythm, shape and mimetic
muscularity of the performer, can unlock cultural meanings in scribal
texts and ignite language in the kinesthetic repertoire of the Africanist
body in performance.
Eugene Williams is a well known Guyanese/Jamaican director and scholar and a Ford
Foundation and Fulbright scholar. He studied Directing (MFA at CUNY) and -
Performance Studies (New York University). He is the former director of the School of
Drama at the Edna Manley College of the Visual and Performing arts. As a director his
productions include Caribbean classics such as An Echo in the Bone by Dennis Scott,
CLR James' The Black Jacobins, and African American plays such as Ruined and A
Raisin in the Sun. His work has appeared throughout the Caribbean, the US and the UK.
This fall he directed d'bi young's Lukumi here in Toronto.