When:
October 12, 2016 @ 2:30 pm – 4:30 pm
2016-10-12T14:30:00-04:00
2016-10-12T16:30:00-04:00
Where:
Kaneff Tower Room 901 (Ninth Floor)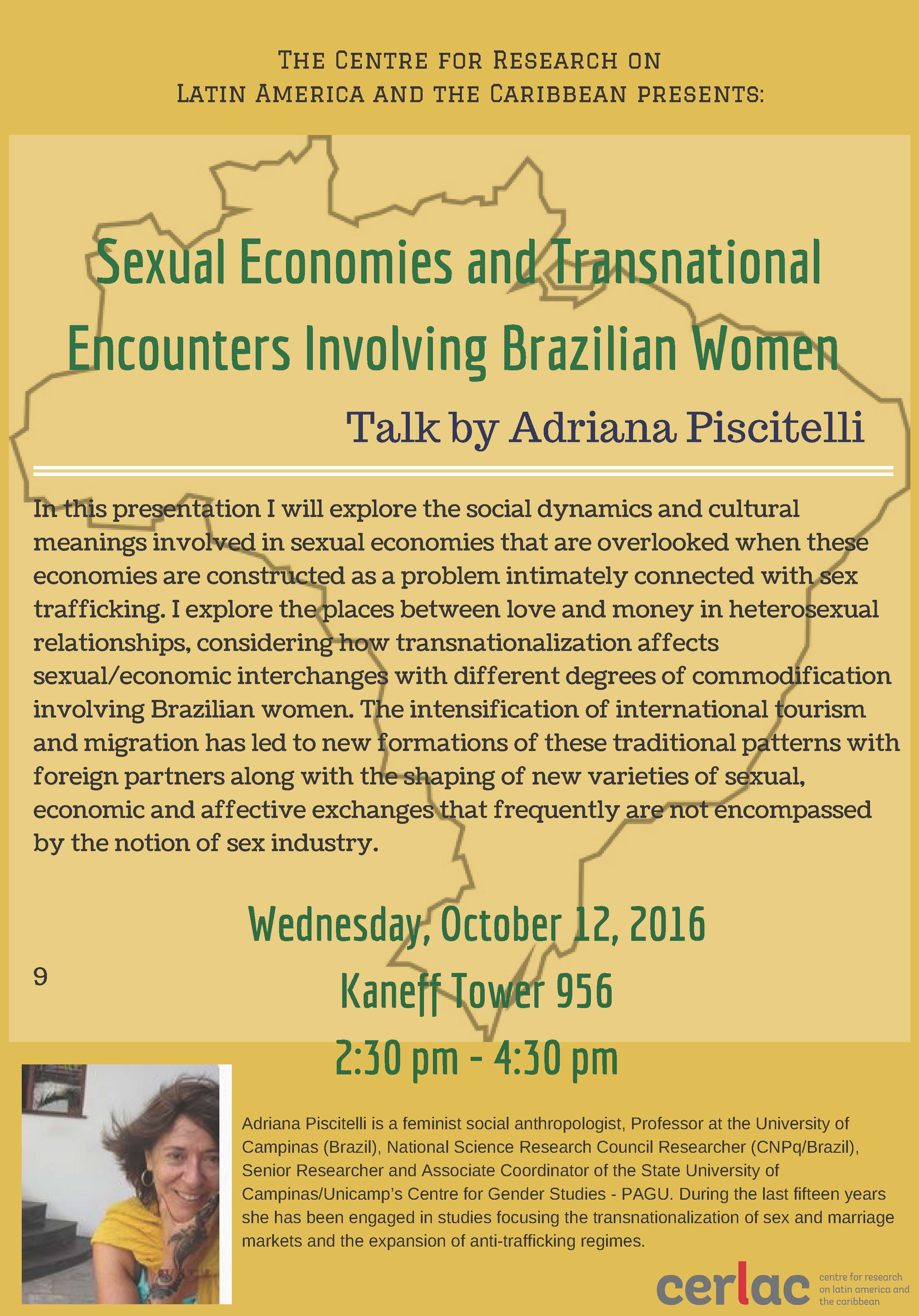 Sexual Economies and Transnational Encounters Involving Brazilian Women. Talk by Adriana Piscitelli.
Wednesday, October12, 2016
Kaneff Tower 901
2:30 – 4:30
All are welcome!
About the talk: In this presentation I will explore the social dynamics and cultural meanings involved in sexual economies that are overlooked when these economies are constructed as a problem intimately connected with sex trafficking. I explore the places between love and money in heterosexual relationships, considering how transnationalization affects sexual/economic interchanges with different degrees of commodification involving Brazilian women. In Brazil different forms of transactional sex have long coexisted with what is conceptualized as prostitution. The intensification of international tourism and migration has led to new formations of these traditional patterns with foreign partners along with the shaping of new varieties of sexual, economic and affective exchanges that frequently are not encompassed by the notion of sex industry. This diversity is effaced in academic studies that lump together "sex tourism" with prostitution and in a public debate that labels these relationships, when they involve poorer "darker" women, as sex trafficking. Drawing on multi sited ethnographic research carried out in over fifteen years, since 2000, in transnational scenarios, in "sex tourism" circuits in the Northeast of Brazil and with Brazilian migrants in Italy and Spain, I explore the lines that distinguish these diverse sexual/economic/affective relationships and the connections among them and I consider how they are re-configured in new scenarios, paying attention to how these practices are modified and to how the notions  linked to them acquire new meanings.
Speaker Bio: Adriana Piscitelli is a feminist social anthropologist, Professor at the University of Campinas (Brazil), National Science Research Council Researcher (CNPq/Brazil), Senior Researcher and Associate Coordinator of the State University of Campinas/Unicamp's Centre for Gender Studies - PAGU. During the last fifteen years she has been engaged in studies focusing the transnationalization of sex and marriage markets and the expansion of anti-trafficking regimes.
She was editor of diverse issues of Cadernos PAGU (Universidade Estadual de Campinas), among them Mercado do Sexo (2005),  and with Márcia Vasconcelos, Gênero no tráfico de pessoas (2008) and published diverse articles in international academic journals and book chapters.