When:
September 8, 2014 @ 7:45 pm – 8:45 pm
2014-09-08T19:45:00-04:00
2014-09-08T20:45:00-04:00
Professor Rose Marie Belle Antoine, the Organization of American States' Rapporteur on Rights of Persons of African Descent and Racial Discrimination and a Commissioner on the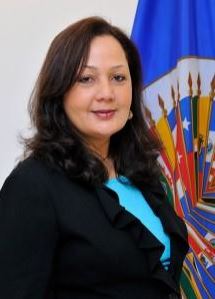 InterAmerican Commission on Human Rights, will give a talk on Monday September 8th at 2:30pm in York Lanes 305.
Professor Antoine was elected at the 41st OAS General Assembly in June 2011 for the standard four-year term, which began on January 1, 2012. She is a lawyer, Professor and Dean of the University of the West Indies, specializing in human rights, financial law, comparative law, administrative law, public service law, discrimination law and labor law. She has also lectured abroad, including in the United States. Commissioner Antoine has substantial international consultancy experience. She has served as senior legal advisor to all of the governments of the Commonwealth Caribbean and to governments outside of the region, such as the UK, Venezuela, USA and Canada, and to several international and regional organizations. These include the European Union, UNICEF, UNIFEM, the ILO, the IADB, the World Bank, and the OAS, among others. She is an award-winning author who has written eleven books and numerous reports and articles and drafted laws on a wide range of topics, including discrimination, constitutional reform, public service reform, juvenile justice, mutual legal assistance, women's rights, health, sexual harassment, trafficking in persons, labor law, free movement of labor, HIV, financial law, anti-drug trafficking and anti-corruption. Commissioner Antoine is an Oxford Commonwealth Scholar and a Cambridge Pegasus Scholar, holding a doctorate from Oxford University, an LL.M. from Cambridge and an LL.B. from the University of the West Indies. Professor Antoine also holds diplomas and certificates in international human rights from the International Institute of Human Rights in Strasbourg, France.
For more information please click here: http://tubman.info.yorku.ca/2014/09/rose-marie-belleantoine-talk-on-monday-september-8th-230pm/