When:
March 5, 2015 @ 4:30 pm – 6:30 pm
2015-03-05T16:30:00-05:00
2015-03-05T18:30:00-05:00
Where:
Kaneff Tower Room 626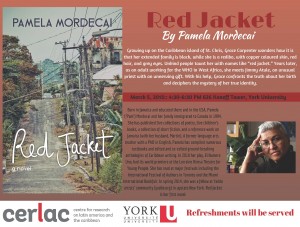 Growing up on the Caribbean island of St. Chris, Grace Carpenter wonders how it is that her extended family is black, while she is a redibo, with copper coloured skin, red hair, and grey eyes. Unkind people taunt her with names like "red jacket." Years later, as an adult working for the WHO in West Africa, she meets Jimmy Atule, an unusual priest with an unnerving gift. With his help, Grace confronts the truth about her birth and deciphers the mystery of her true identity.
Born in Jamaica and educated there and in the USA, Pamela ('Pam') Mordecai and her family immigrated to Canada in 1994. She has published five collectionsof poetry, five children's books, a collection of short fiction, and a reference work on Jamaica (with her husband, Martin). A former language arts teacher with a PhD in English, Pamela has compiled numerous textbooks and edited and co-edited ground-breaking anthologiesof Caribbean writing. In 2010 her play, El Numero Uno, had its world premiere at the Lorraine Kimsa Theatre for Young People. She has read at major festivals including the InternationalFestivalof Authors in Torontoand the Miami International Bookfair. In spring 2014, she was a fellow at Yaddo artists' community (yaddo.org) in upstate New York. Red Jacket is her first novel.