When:
March 7, 2017 @ 7:00 pm – 9:00 pm
2017-03-07T19:00:00-05:00
2017-03-07T21:00:00-05:00
Where:
Sidney Smith Hall 2098
100 St George St
Toronto, ON M5S 3G3
Canada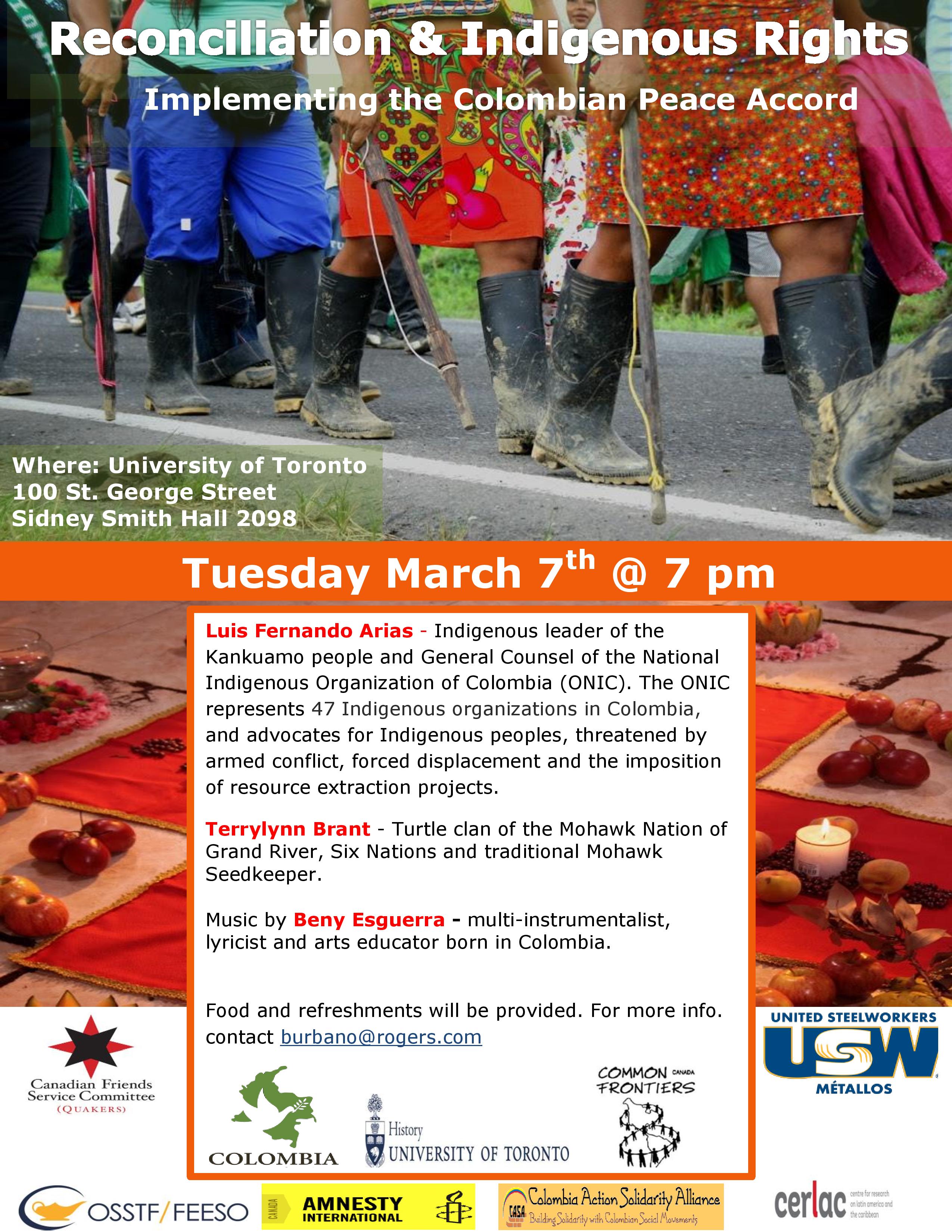 Reconciliation & Indigenous Rights. Implementing the Colombian Peace Accord.
Thursday, March 7, 2017
100 St. George Street
Sidney Smith Hall 2098
7:00pm-9:00pm
All are welcome!
Luis Fernando Arias Arias is an Indigenous leader of the Kankuamo people of the Sierra Nevada de Santa Marta, Colombia.  He is a lawyer with expertise in human rights, self-government, prior consultation, land claims and peacebuilding.
Luis Fernando served as Secretary General of the Colombian National Indigenous Organisation (ONIC) from 2008 to 2012.  Since October 2012 he has been the Chief Counsel and Legal Representative of the National Authority of Indigenous Government.
Luis Fernando has helped lead the process to bring unity to Colombian Indigenous organizations and peoples affiliated with ONIC.  He also works with various processes of mobilisation, dialogue and political consultation which have been of great importance for Indigenous peoples, including the national Ethnic, Small Farmer and Popular Agrarian Summit.  Luis Fernando is the ONIC delegate to Colombia's Permanent Roundtable for Consultation with Indigenous Peoples and Organizations.  During his time as Chief Counsel he has been involved in dialogue regarding the agreements and commitments to Indigenous peoples in Colombia's National Development Plan (2014-2018).
In 2016, as ONIC´s representative, Luis Fernando was one of those heading up the Ethnic Commission for Peace and the Defence of Territorial Rights.
During ONIC´s IX National Congress of Indigenous Peoples, which took place in October 2016, he was confirmed as ONIC´s Chief Counsel and Legal Representative for the 2016-2020 period.