When:
February 26, 2021 @ 9:00 am – 6:30 pm
2021-02-26T09:00:00-05:00
2021-02-26T18:30:00-05:00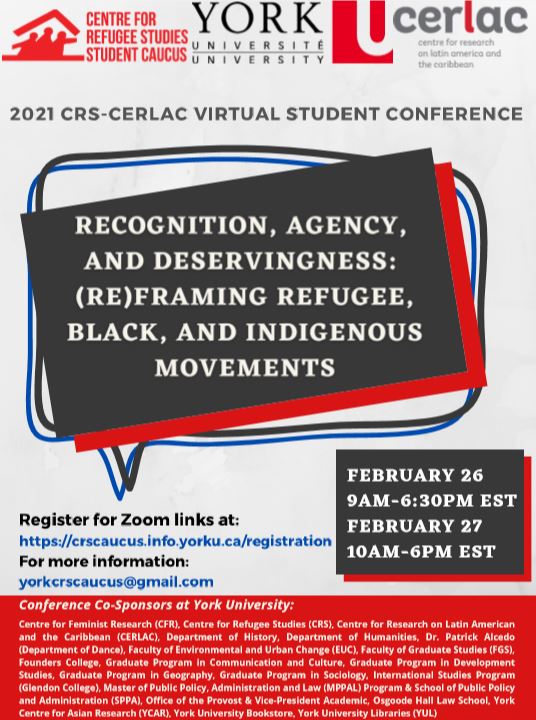 The Centre for Refugee Studies (CRS), in collaboration with The Centre for Research on Latin America and the Caribbean (CERLAC) presents the 2021 CRS-CERLAC Virtual Student Conference:
"Recognition, Agency, and Deservingness: (Re)framing Refugee, Black, and Indigenous Movements."
The COVID-19 pandemic has been a time during which movement has become a focus. Moving during confinement has had disparate effects for different populations. Yet, the sense of being constrained has been felt around the world.
Migrants and refugees are amongst the communities most significantly impacted by COVID-19. Being forced to move despite global restrictions on mobility, migrants confront heightened border restrictions and are at increasing risk of exposure to the virus. Physical distancing safeguards have been inadequately implemented (if at all) in refugee camps, immigration detention centres, and temporary migrant worker programs that comprise the essential service sector so heavily relied upon during the pandemic. With limited access to health services, job and income security, and forced to work in unsafe environments, migrants and refugees remain vulnerable. These inequalities are not new; the pandemic has merely exposed and heightened existing conditions of precarity.
To access the conference website, please click here.