When:
February 27, 2017 @ 11:30 am – 1:00 pm
2017-02-27T11:30:00-05:00
2017-02-27T13:00:00-05:00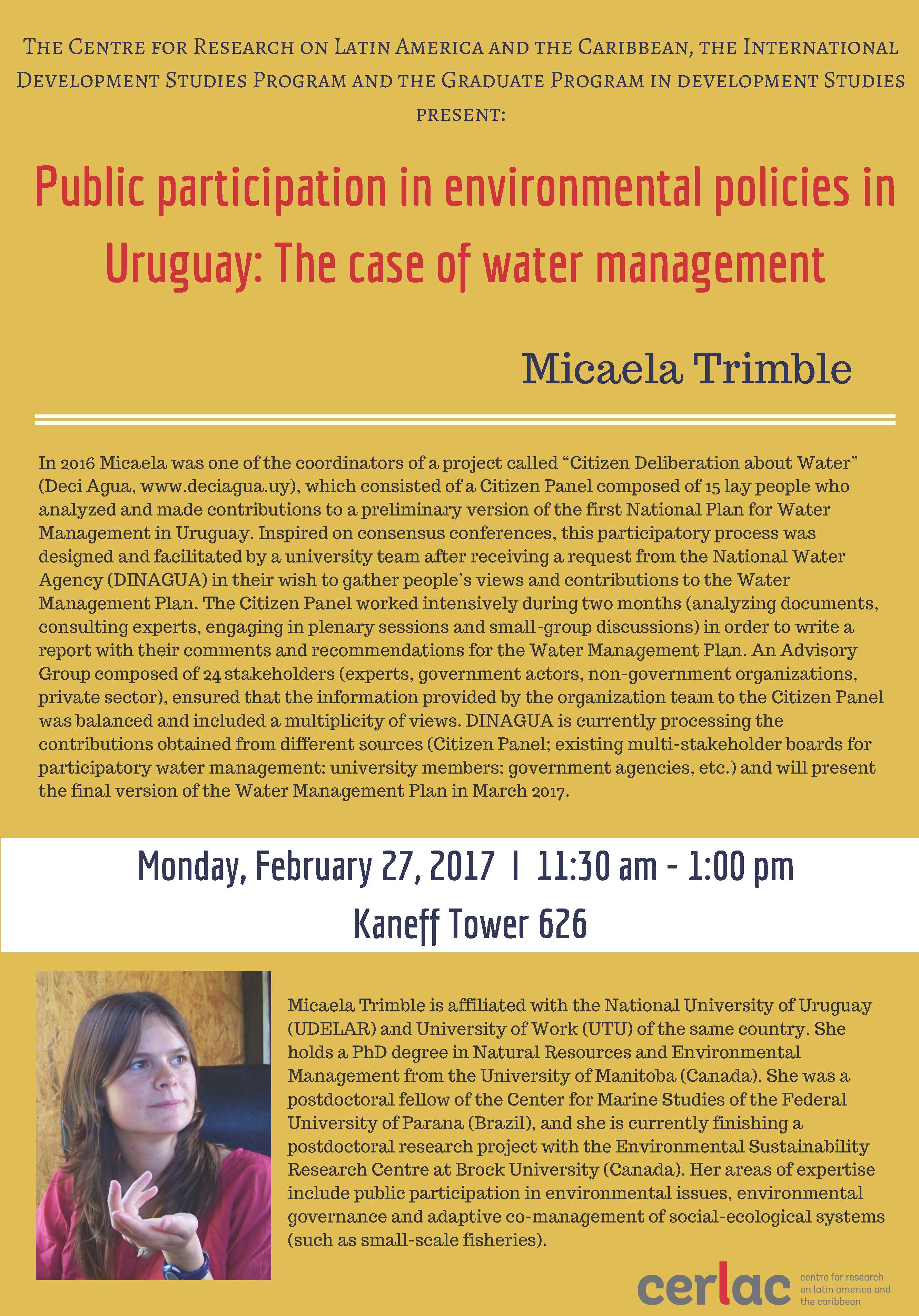 Public participation in environmental policies in Uruguay: The case of water management. Talk by Micaela Trimble.
Monday, February 27, 2017
Kaneff Tower 626
11:30am – 1:00pm
All are welcome!
In 2016 Micaela was one of the coordinators of a project called "Citizen Deliberation about Water" (Deci Agua, www.deciagua.uy), which consisted of a Citizen Panel composed of 15 lay people who analyzed and made contributions to a preliminary version of the first National Plan for Water Management in Uruguay. Inspired on consensus conferences, this participatory process was designed and facilitated by a university team after receiving a request from the National Water Agency (DINAGUA) in their wish to gather people's views and contributions to the Water Management Plan. The Citizen Panel worked intensively during two months (analyzing documents, consulting experts, engaging in plenary sessions and small-group discussions) in order to write a report with their comments and recommendations for the Water Management Plan. An Advisory Group composed of 24 stakeholders (experts, government actors, non-government organizations, private sector), ensured that the information provided by the organization team to the Citizen Panel was balanced and included a multiplicity of views. DINAGUA is currently processing the contributions obtained from different sources (Citizen Panel; existing multi-stakeholder boards for participatory water management; university members; government agencies, etc.) and will present the final version of the Water Management Plan in March 2017.
Micaela Trimble is affiliated with the National University of Uruguay (UDELAR) and University of Work (UTU) of the same country. She holds a PhD degree in Natural Resources and Environmental Management from the University of Manitoba (Canada). She was a postdoctoral fellow of the Center for Marine Studies of the Federal University of Parana (Brazil), and she is currently finishing a postdoctoral research project with the Environmental Sustainability Research Centre at Brock University (Canada). Her areas of expertise include public participation in environmental issues, environmental governance and adaptive co-management of social-ecological systems (such as small-scale fisheries).
Co-sponsors: The International Development Studies Program and The Graduate Program in Development Studies