When:
January 13, 2016 @ 2:30 pm – 4:30 pm
2016-01-13T14:30:00-05:00
2016-01-13T16:30:00-05:00
Where:
Kaneff Tower Room 956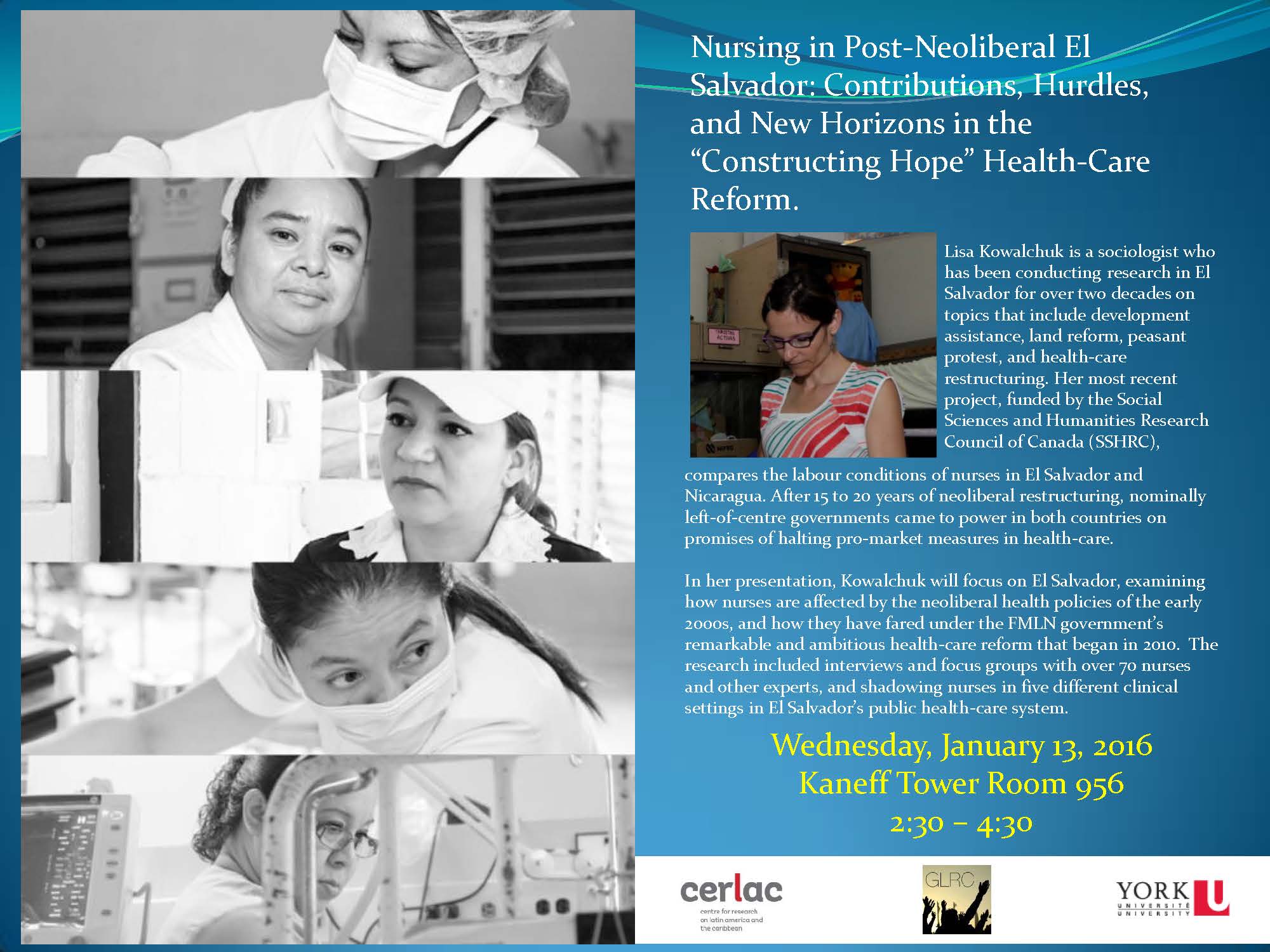 Nursing in Post-Neoliberal El Salvador: Contributions, Hurdles, and New Horizons in the "Constructing Hope" Health-Care Reform.  By Lisa Kowalchuk
Wednesday, January 13, 2016
Kaneff Tower Room 956
2:30 p.m. to 4:30 p.m.
All are welcomed!
Lisa Kowalchuk is a sociologist who has been conducting research in El Salvador for over two decades on topics that include development assistance, land reform, peasant protest, and health-care restructuring. Her most recent project, funded by the Social Sciences and Humanities Research Council of Canada (SSHRC), compares the labour conditions of nurses in El Salvador and Nicaragua. After 15 to 20 years of neoliberal restructuring, nominally left-of-centre governments came to power in both countries on promises of halting pro-market measures in health-care.
In her presentation, Kowalchuk will focus on El Salvador, examining how nurses are affected by the neoliberal health policies of the early 2000s, and how they have fared under the FMLN government's remarkable and ambitious health-care reform that began in 2010.  The research included interviews and focus groups with over 70 nurses and other experts, and shadowing nurses in five different clinical settings in El Salvador's public health-care system.