When:
January 24, 2017 @ 2:30 pm – 4:00 pm
2017-01-24T14:30:00-05:00
2017-01-24T16:00:00-05:00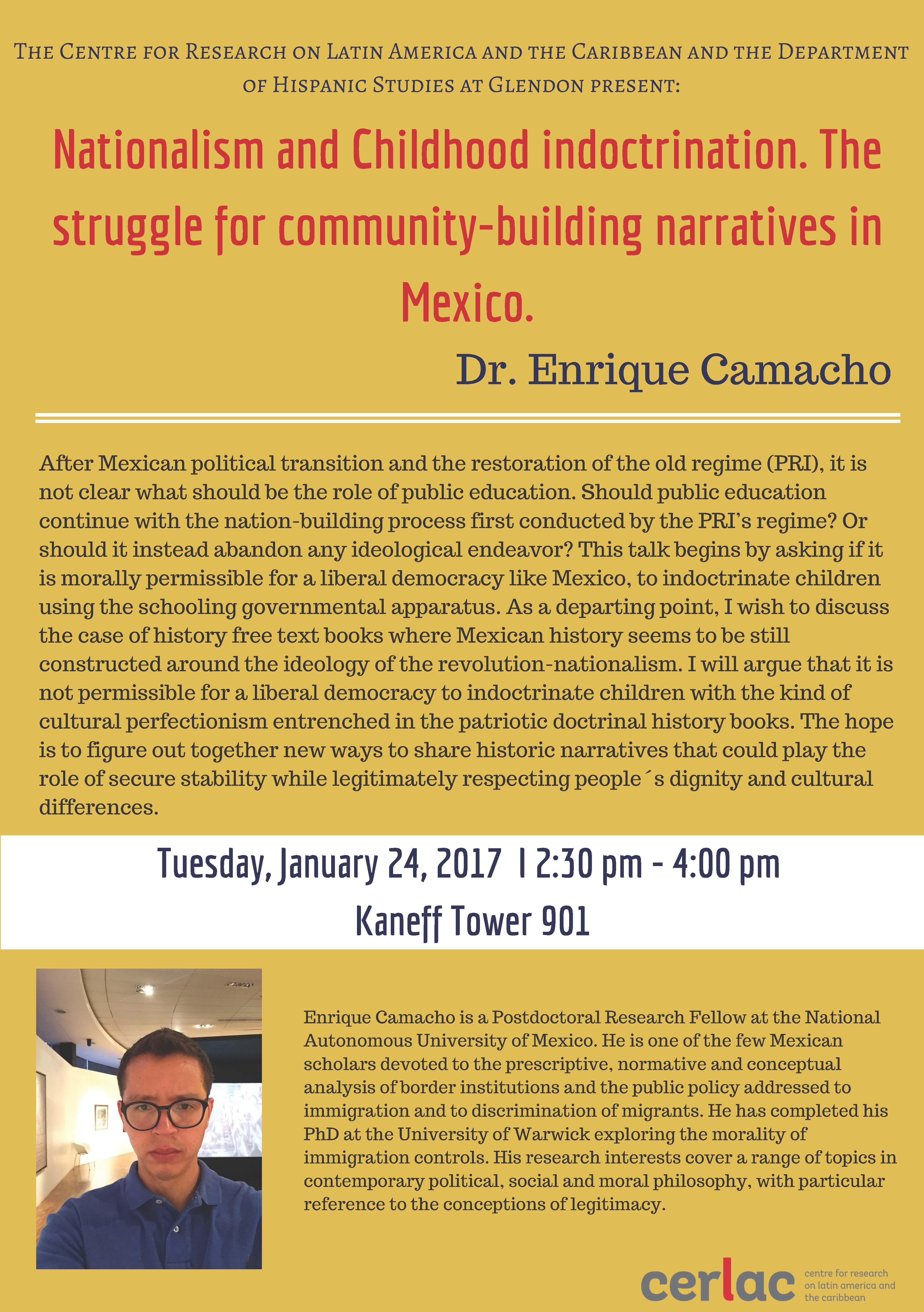 Nationalism and Childhood indoctrination. The struggle for community-building narratives in Mexico. Dr. Enrique Camacho
Tuesday, January 24, 2017
Kaneff Tower 901
2:30 pm – 4:00 pm
All are welcome!
After the Mexican political transition and the restoration of the old regime (PRI), it is not clear what should be the role of public education. Should public education continue with the nation-building process first conducted by the PRI's regime? Or should it instead abandon any ideological endeavor? This talk begins by asking if it is morally permissible for a liberal democracy like Mexico, to indoctrinate children using the schooling governmental apparatus. As a departing point, I wish to discuss the case of history free text books where Mexican history seems to be still constructed around the ideology of the revolution-nationalism. I will argue that it is not permissible for a liberal democracy to indoctrinate children with the kind of cultural perfectionism entrenched in the patriotic doctrinal history books. The hope is to figure out together new ways to share historic narratives that could play the
role of secure stability while legitimately respecting people´s dignity and cultural differences.
Enrique Camacho is a Postdoctoral Research Fellow at the National
Autonomous University of Mexico. He is one of the few Mexican
scholars devoted to the prescriptive, normative and conceptual
analysis of border institutions and the public policy addressed to
immigration and to discrimination of migrants. He has completed his
PhD at the University of Warwick exploring the morality of
immigration controls. His research interests cover a range of topics in
contemporary political, social and moral philosophy, with particular
reference to the conceptions of legitimacy.