When:
October 5, 2016 @ 7:00 pm – 9:00 pm
2016-10-05T19:00:00-04:00
2016-10-05T21:00:00-04:00
Where:
Nat Taylor Cinema (Ross Building 102 N)
York University
Toronto, ON M3J
Canada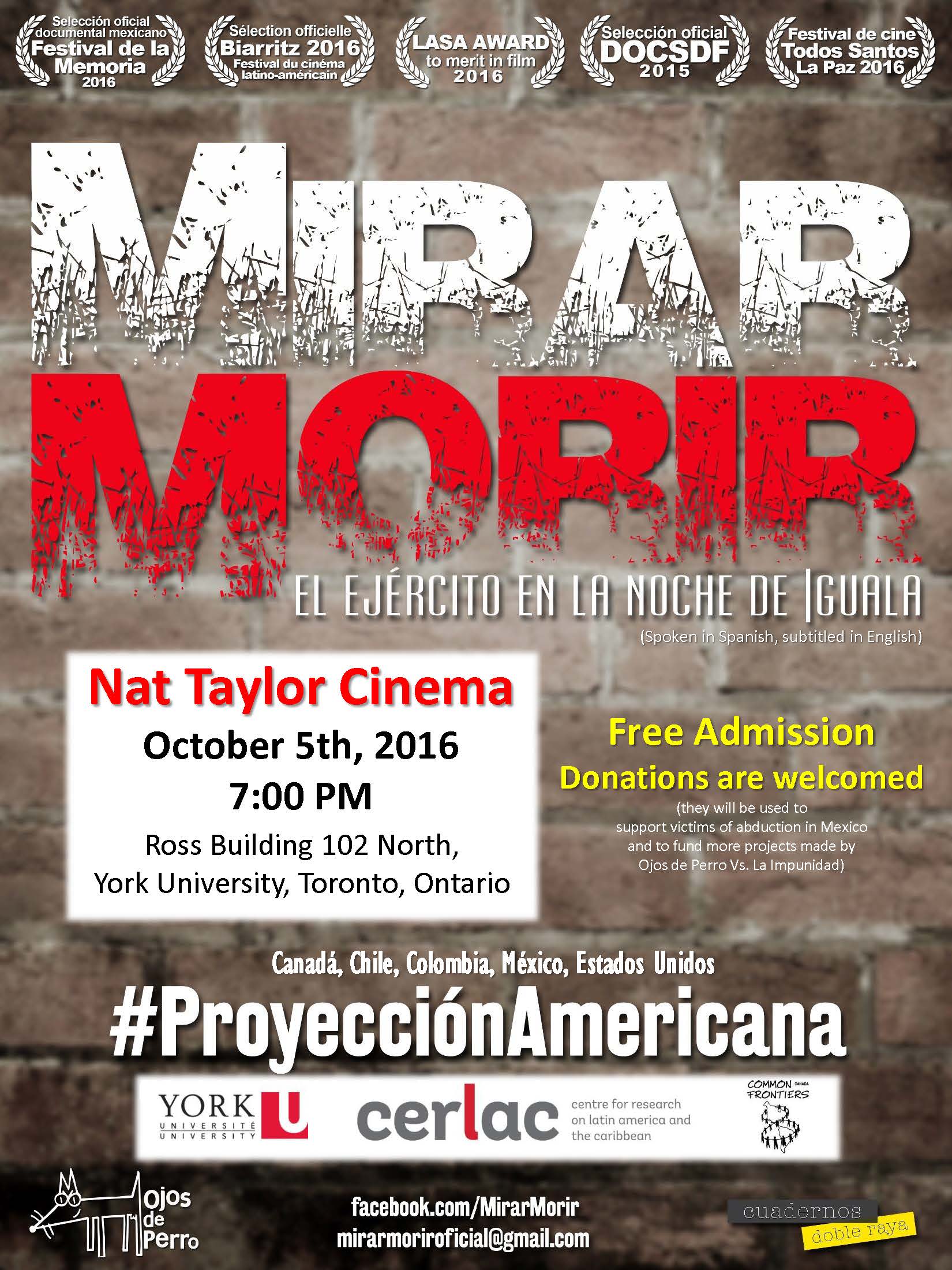 Mirar Morir. El Ejercito en la noche de Iguala.

Wednesday, October 5, 2016
Nat Taylor Cinema (Ross Building 102 N)
7:00 – 9:00
Free Admission / Donations are welcomed
Mirar Morir: El Ejército en la Noche de Iguala / Watching Them Die: The Mexican army and the 43 disappeared
Mirar Morir is a documentary film about the role of the Mexican army in the forced disappearances of forty-three students from the Ayotzinapa rural teachers college who were in Iguala, Guerrero.
On September 26 and 27 2014, a group of students from Ayotzinapa Rural Teachers' College were chased, shot at and disappeared. The attackers were members of the local police, who acted under the direct supervision of agents from the state, federal corporations, and the Mexican Army. From the very beginning, the Mexican government's investigation was marred by inaccuracies and suspected of covering up the Mexican government's role in the massacre. The police also stand accused of killing six other people and injuring, at least, 25 more.
The tragic night of Iguala was the consequence of a general state of violence and impunity in which the cover-up maneuvers reach Mexico's highest levels of government.
"…narrative of great strength and courage…" Juan Villoro
"…a film that breaks with everything that has been done in Mexico as a militant journalism, being something much smarter like the investigative journalism…" Jorge Ayala Blanco.
"…by their intensity, their ability to enlighten, not to fall into the traps of victimology , the mere existence of this film is quite hopeful, hopefully is in the audience it deserves viewers… Jorge Ayala Blanco.
"... An important and honest documentary ... " Denise Dresser
" ... A documentary without vested interests, with the only purpose of discovering the truth ..." Hector Bonilla
" ... Big, full , deep , professional ... " Álvaro Cueva
"... Well, strong and appropriate, on an actual issue ... "Álvaro Cueva
Country: Mexico
Lenght: 100 min
Language: Spanish (Mexico)
Subtitles: English
Director: Coizta Grecko B
Producer: Témoris Grecko
Associated Producer: Juan Castro Gessner
Production: Ojos De Perro Vs La Impunidad in collaboration with Cuadernos de Doble Raya
Investigation, Report And Screenplay: Témoris Grecko
Edition: Damian Mendoza
Cinematography: Juan Castro Gessner, Brenda Razo, Luis Alberto Castillo, Humberto Ibarra, Pepe Jiménez, Matthieu Comin, Bernardo Torres, Paris Martínez, Luis Cortés, Alejandro Guerrero, Témoris Grecko and Coizta Grecko
Original Music: Juan José Rodríguez
Supporting Investigation And Report: David Espino, Fernando Miranda, Laurence Cuvillier, Thalía Güido, Brenda Razo, Paris Martínez Y Marco Antonio García Velázquez.
Distribution in Toronto, Canada: Javier Díaz, Carlos Chalico