When:
October 19, 2017 @ 3:30 pm – 6:00 pm
2017-10-19T15:30:00-04:00
2017-10-19T18:00:00-04:00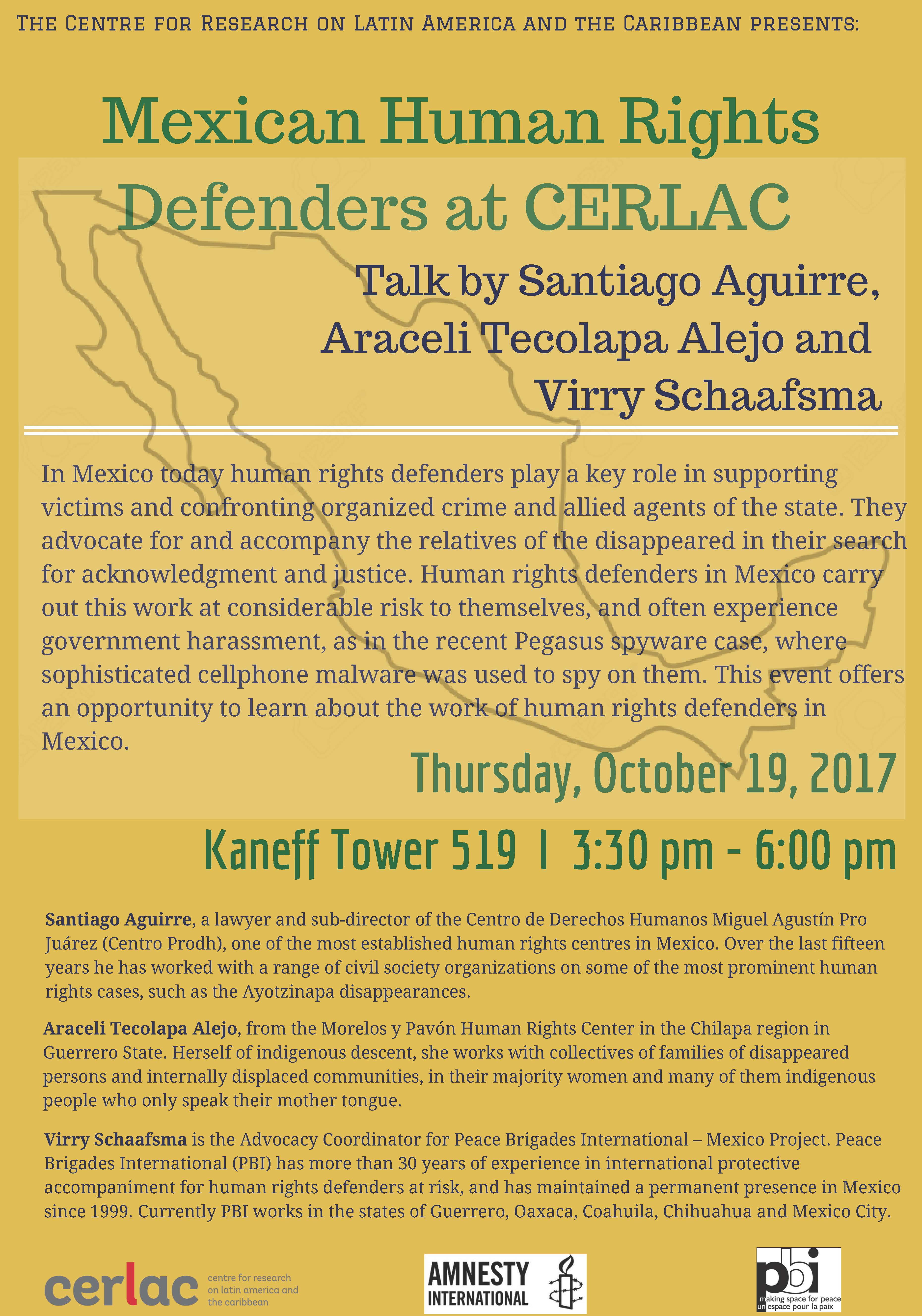 Mexican Human Rights Defenders at CERLAC
Thursday, October 19, 2017
Kaneff tower 519
3:30pm - 6:00pm
All are welcome!
In Mexico today human rights defenders play a key role in supporting victims and confronting organized crime and allied agents of the state. They advocate for and accompany the relatives of the disappeared in their search for acknowledgment and justice. Human rights defenders in Mexico carry out this work at considerable risk to themselves, and often experience government harassment, as in the recent Pegasus spyware case, where sophisticated cellphone malware was used to spy on them. This event offers an opportunity to learn about the work of human rights defenders in Mexico.
Santiago Aguirre, a lawyer and sub-director of the Centro de Derechos Humanos Miguel Agustín Pro Juárez (Centro Prodh), one of the most established human rights centres in Mexico. Over the last fifteen years he has worked with a range of civil society organizations on some of the most prominent human rights cases, such as the Ayotzinapa disappearances.
Araceli Tecolapa Alejo, from the Morelos y Pavón Human Rights Center in the Chilapa region in Guerrero State. Herself of indigenous descent, she works with collectives of families of disappeared persons and internally displaced communities, in their majority women and many of them indigenous people who only speak their mother tongue.
Virry Schaafsma, is the Advocacy Coordinator for Peace Brigades International – Mexico Project. Peace Brigades International (PBI) has more than 30 years of experience in international protective accompaniment for human rights defenders at risk, and has maintained a permanent presence in Mexico since 1999. Currently PBI works in the states of Guerrero, Oaxaca, Coahuila, Chihuahua and Mexico City.