When:
May 6, 2019 @ 6:00 pm – 8:00 pm
2019-05-06T18:00:00-04:00
2019-05-06T20:00:00-04:00
Where:
Ryerson University | ARC-202 (The Pit)
325 Church Street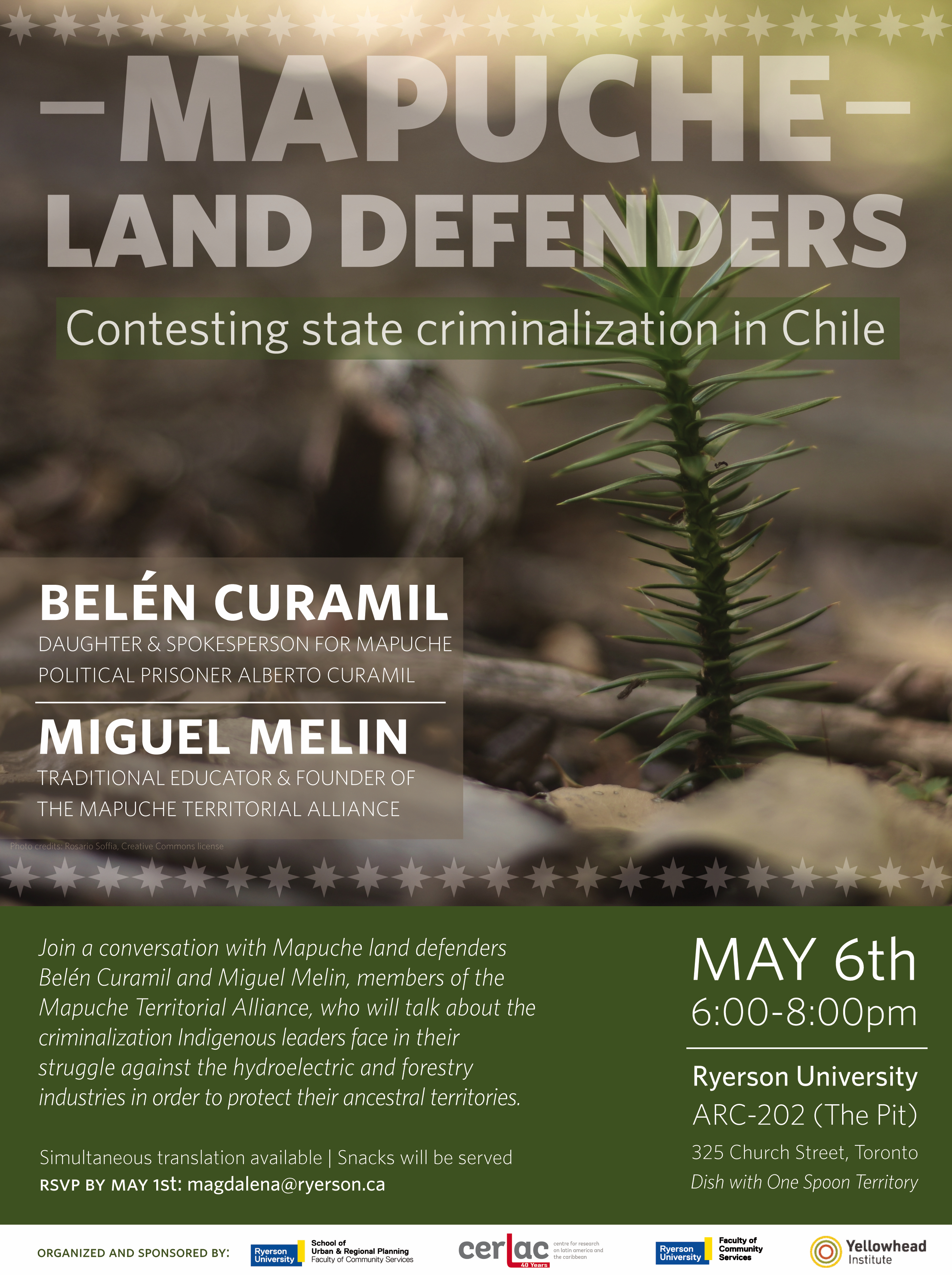 Mapuche Land Defenders: Contesting state criminalization in Chile
MAY 6th | 6:00-8:00pm
Ryerson University | ARC-202 (The Pit)
325 Church Street, Toronto
Dish with One Spoon Territory
Speakers: Belén Curamil, daughter & spokesperson for Mapuche political prisoner Alberto Curamil
Miguel Melin, traditional educator & founder of the Mapuche Territorial Alliance
•••••
Join a conversation with Mapuche land defenders Belén Curamil and Miguel Melin, members of the Mapuche Territorial Alliance, who will share their perspectives about the criminalization Mapuche leaders face in their struggle against the hydroelectric and forestry industries in order to protect their ancestral territories.
Simultaneous translation (Spanish-English) available
Snacks and light refreshments will be served
RSVP by May 1st: magdalena@ryerson.ca
•••••
Belén Curamil is the werken (spokesperson) for the Radalko lof (traditional territory), where she lives with her family. She is also the daughter of and spokesperson for his father, Logko (traditional authority) Alberto Curamil who is unjustly in prison for a crime he did not commit. Belén plays important ceremonial roles in her home community, including the position of Tayülfe. This role involves playing the kutxug (drum), musical instrument used in Mapuche prayers, dance, and songs. She is 18 years old and recently started her university studies in Environmental Tourism.
Miguel Melin is a member of and spokesperson for the Ralipitra lof on Mapuche territory. He is provides support to the Logko – his 90 year-old father – in all Mapuche ceremonies taking place in the community. Miguel is one of the founders of the Mapuche Territorial Alliance, a grassroots organization that promotes Mapuche cultural and political resurgence. He is a speaker of Mapuzugun (Mapuche language) and a bilingual intercultural teacher. He has co-authored several publications about Mapuche cultural knowledge and will soon launch his latest book, which explores ancestral forms of Mapuche mapping in order to support the territorial demands of his people.
Organized by:
School of Urban and Regional Planning
Sponsored by:
CERLAC – Centre for Research on Latin America and the Caribbean, York University
Faculty of Community Services
Yellowhead Institute