When:
February 5, 2015 @ 2:30 pm – 4:30 pm
2015-02-05T14:30:00-05:00
2015-02-05T16:30:00-05:00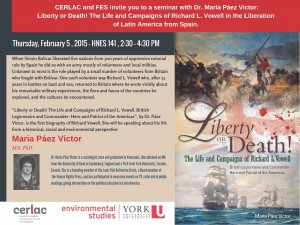 When Simón Bolívar liberated five nations from 300 years of oppressive colonial rule by Spain he did so with an army mostly of volunteers and local militias. Unknown to most is the role played by a small number of volunteers from Britain who fought with Bolivar. One such volunteer was Richard L. Vowell who, after 13 years in battles on land and sea, returned to Britain where he wrote vividly about his remarkable military experiences, the flora and fauna of the countries he explored, and the cultures he encountered. "Liberty or Death! The Life and Campaigns of Richard L. Vowell, British Legionnaire and Commander- Hero and Patriot of the Americas", by Dr. Páez Victor, is the first biography of Richard Vowell. She will be speaking about his life from a historical, social and environmental perspective.
Dr. MariaPáezVictor isasociologist,bornandgraduatedinVenezuela.Sheobtainedan MA from theUniversityofKentatCanterbury, EnglandandaPh.Dfrom YorkUniversity,Toronto, Canada.Sheisafounding memberof theLouisRielBolivarianCircle,aBoard memberof theHumanRightsPress,andhasparticipatedinnumerouseventsonTV, radioandinpublic meetingsgivinginformationonthepoliticalsituationinLatinAmerica.