When:
October 5, 2016 @ 10:00 am – 11:30 am
2016-10-05T10:00:00-04:00
2016-10-05T11:30:00-04:00
Where:
Kaneff Tower Room 956 (NinthFloor)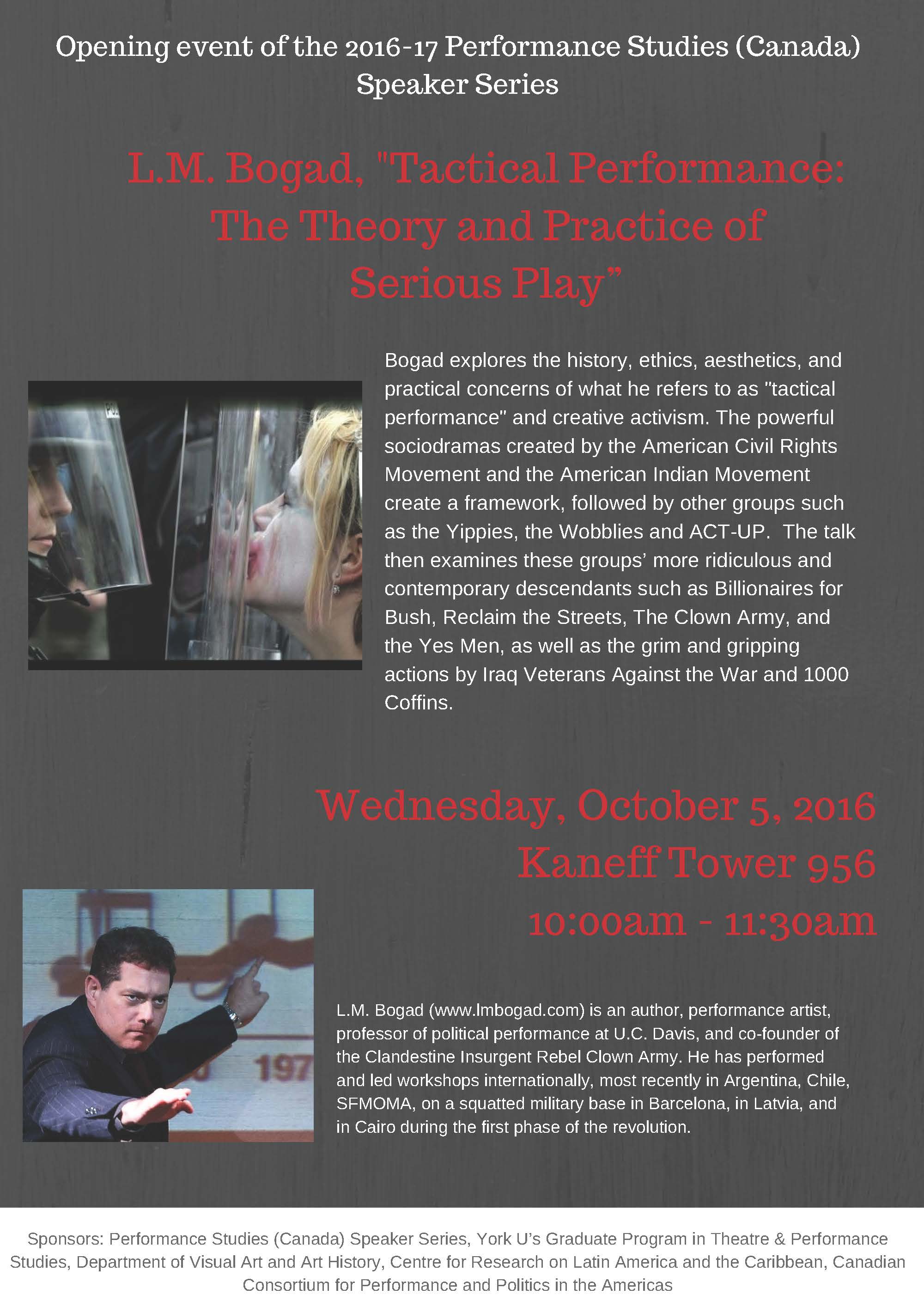 L.M. Bogard, "Tactical Performances: The Theory and Practice of Serious Play".
Wednesday, October 5, 2016
Kaneff Tower 956
10:00 – 11:30
All are welcome!
About the talk:  Bogad explores the history, ethics, aesthetics, and practical concerns of what he refers to as "tactical performance" and creative activism. The powerful sociodramas created by the American Civil Rights Movement and the American Indian Movement create a framework, followed by other groups such as the Yippies, the Wobblies and ACT-UP.  The talk then examines these groups' more ridiculous and contemporary descendants such as Billionaires for Bush, Reclaim the Streets, The Clown Army, and the Yes Men, as well as the grim and gripping actions by Iraq Veterans Against the War and 1000 Coffins.
Speaker bio: L.M. Bogad (www.lmbogad.com) is an author, performance artist, professor of political performance at U.C. Davis, and co-founder of the Clandestine Insurgent Rebel Clown Army.  He has performed and led workshops internationally, most recently in Argentina, Chile, SFMOMA, on a squatted military base in Barcelona, in Latvia, and in Cairo during the first phase of the revolution. He was "Art and Controversy" Fellow, and Distinguished Lecturer on Performance and Politics, at Carnegie Mellon University, and "Humanities and Political Conflict" Fellow at ASU.  His projects includes a historical role playing game called "Possible Pasts," and performances which excavate and explore the memories of historical confrontations including the Haymarket Square Riot, the Pinochet coup, and the FBI's COINTELPRO activities.  His books are Electoral Guerilla Theatre: Radical Ridicule and Social Movements, Tactical Performance: The Theory and Practice of Serious Play, and COINTELSHOW: A Patriot Act.
Sponsors: Performance Studies (Canada) Speaker Series, York U's Graduate Program in Theatre & Performance Studies, Department of Visual Art and Art History, Centre for Research on Latin America and the Caribbean, Canadian Consortium for Performance and Politics in the Americas
2016-17 Speaker Series Co-Curators: Alana Gerecke, Laura Levin, and Marlis Schweitzer