When:
October 19, 2016 @ 12:00 pm – 1:30 pm
2016-10-19T12:00:00-04:00
2016-10-19T13:30:00-04:00
Where:
Kaneff Tower Room 626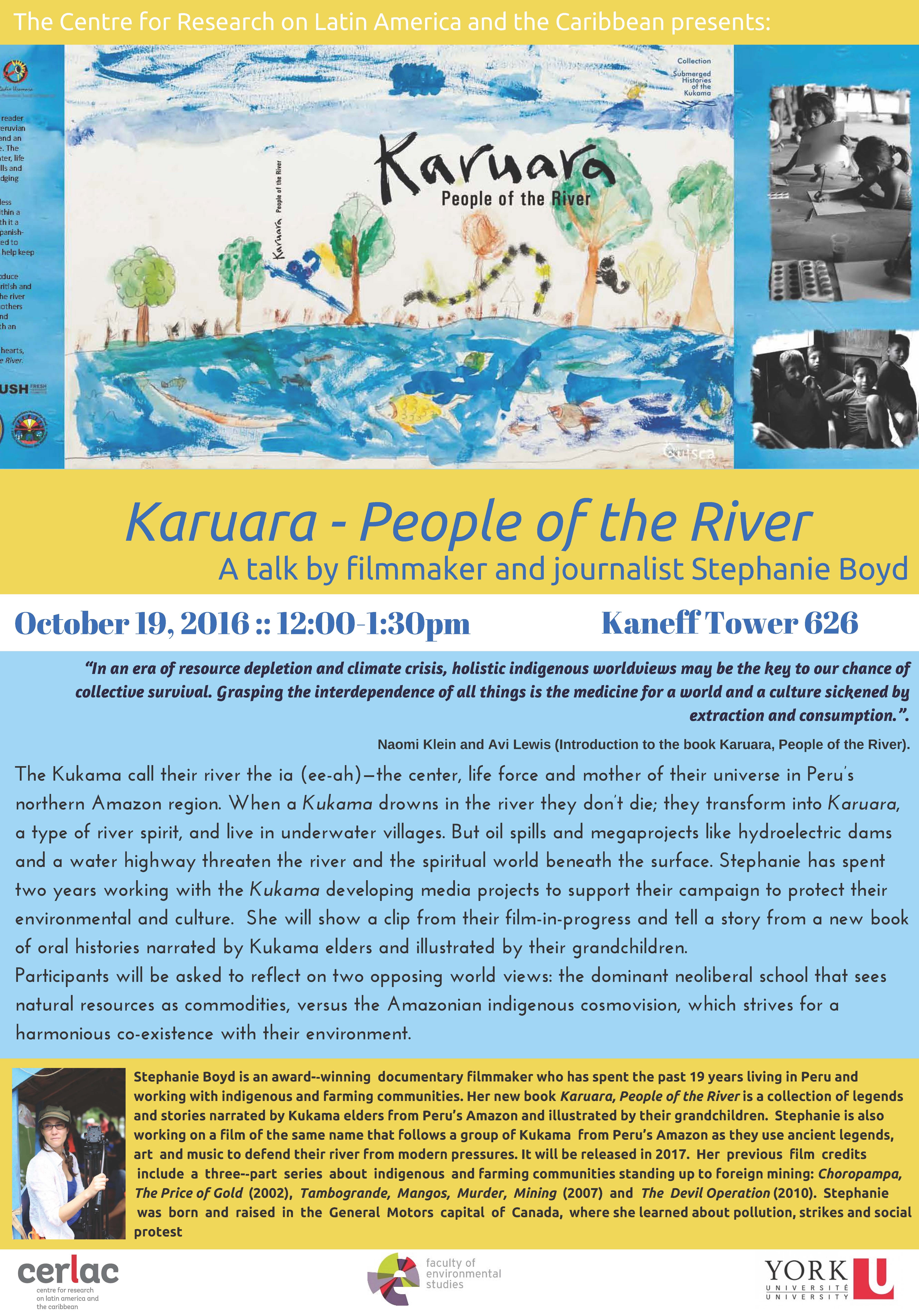 Karuara - People of the River. A talk by filmmaker and journalist Stephanie Boyd.
Wednesday,October 19,2016
12:00 - 1:30
Kaneff Tower 626
"In an era of resource depletion and climate crisis, holistic indigenous worldviews may be the key to our chance of collective survival. Grasping the interdependence of all things is the medicine for a world and a culture sickened by extraction and consumption." –Naomi Klein and Avi Lewis (Introduction to the book Karuara, People of the River).
The Kukama call their river the ɨa (ee-ah)—the center, life force and mother of their universe in Peru's northern Amazon region. When a Kukama drowns in the river they don't die; they transform into Karuara, a type of river spirit, and live in underwater villages. But oil spills and megaprojects like hydroelectric dams and a water highway threaten the river and the spiritual world beneath the surface.
Stephanie has spent two years working with the Kukama developing media projects to support their campaign to protect their environmental and culture.  She will show a clip from their film-in-progress and tell a story from a new book of oral histories narrated by Kukama elders and illustrated by their grandchildren.
Participants will be asked to reflect on two opposing world views: the dominant neoliberal school that sees natural resources as commodities, versus the Amazonian indigenous cosmovision, which strives for a harmonious co-existence with their environment.
The Project:
The book and film are part of a campaign to protect the Amazon's rivers and indigenous cultures. Our collective is also producing animations, radio programs, music videos with kids, public murals, live presentations, articles and blogs.
All proceeds from lectures and book sales go toward this project.
Contact: Stephanie Boyd, Asociación Quisca,
Email: quiscaproductions@gmail.com
Like our Facebook page: https://www.facebook.com/quiscaproducciones2010/
Bio: Stephanie Boyd
Director of the films: The Devil Operation, Tambogrande and Choropampa And co-­‐editor of the new book Karuara, People of the River
Stephanie Boyd is an award-­‐winning  documentary filmmaker who has spent the past 19 years living in Peru and working with indigenous and farming communities. Her new book Karuara, People of the River is a collection of legends and stories narrated by Kukama elders from Peru's Amazon and illustrated by their grandchildren.
Stephanie is also working on a film of the same name that follows a group of Kukama  from Peru's Amazon as they use ancient legends, art  and music to defend their river from modern pressures. It will be released in 2017.
Her  previous  film  credits  include  a  three-­‐part  series  about  indigenous  and farming communities standing up to foreign mining: Choropampa, The Price of Gold  (2002),  Tambogrande,  Mangos,  Murder,  Mining  (2007)  and  The  Devil Operation (2010).
These  films  have  been  screened  at  over  100  international  festivals,  won  more than 30 awards and been broadcast around the world on stations such as the Sundance Channel, Outside TV, CBC Country Canada, Al Jazeera, TeleSur, Russia Today and Canal N (Peru). Her articles have appeared in numerous publications including  The  New  Yorker  online,  New  Internationalist,  Salon.com,  Georgia Straight and Corporate Knights.
Stephanie  was  born  and  raised  in  the  General  Motors  capital  of  Canada,  where she learned about pollution, strikes and social protest.