When:
November 26, 2014 @ 4:30 pm – 6:30 pm
2014-11-26T16:30:00-05:00
2014-11-26T18:30:00-05:00
Where:
Schilich Executive Learning Centre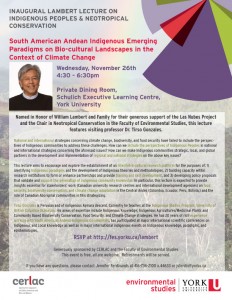 Named in Honor of William Lambert and Family for their generous support of the Las Nubes Project and their Chair in Neotropical Conservation in the Faculty of Environmental Studies.
Lecture Description:
National and international strategies concerning climate change, biodiversity, and food security have failed to include the perspectives of Indigenous communities to address these challenges. How can we include the perspectives of Indigenous Peoples in national and international strategies concerning the aforesaid issues? How can we make Indigenous communities strategic, local and global, partners in the development and implementation of regional and national strategies on the above key issues. This lecture aims to encourage and explore the establishment of an inter/intra-cultural research platform for the purposes of: 1) identifying of Indigenous paradigms and the development of Indigenous theories and methodologies, and 2) building capacity within research institutions to form or enhance partnerships, and provide training and skill development and 3) developing policy proposals that validate and support the generation of indigenous community knowledge. In particular, this lecture is expected to provide insights essential for stakeholders' work (Canadian university research centres and international development agencies) on food security, biodiversity conservation, climate change adaptation in the Central Andes (Colombia, Ecuador, Peru, Bolivia), and the role of Canadian Aboriginal communities in this strategizing.
Speaker Biography :
Tirso Gonzales, is Peruvian and of indigenous Aymara descent. Currently he teaches at the Indigenous Studies Program, University of British Columbia Okanagan. His area of expertise is Indigenous Knowledge; Indigenous Agricultures/Medicinal Plants and Community Based Biodiversity Conservation, Food Security and Climate Change strategies. He has actively participated for three years in and contributed to the Global and Sub Global "International Assessment on the Role of Science, Knowledge and Technology for Agriculture, IAASTD." He has a rich 20-year experience working with South American Andean Indigenous Communities, has participated at major international scientific conferences on Indigenous and Local knowledge as well as in major international indigenous events on Indigenous knowledge, paradigms, and epistemologies. His work as a scholar, international consultant and activist has allowed him to work closely with Indigenous Peoples in the Americas. His current work explores the use of indigenous and non-indigenous research methodologies and techniques on issues central to self-determined indigenous development. He is committed to supporting the agenda of Indigenous Peoples as well as processes related to indigenous ecological knowledge, cultural affirmation and decolonization.