When:
November 14, 2017 @ 2:00 pm – 4:00 pm
2017-11-14T14:00:00-05:00
2017-11-14T16:00:00-05:00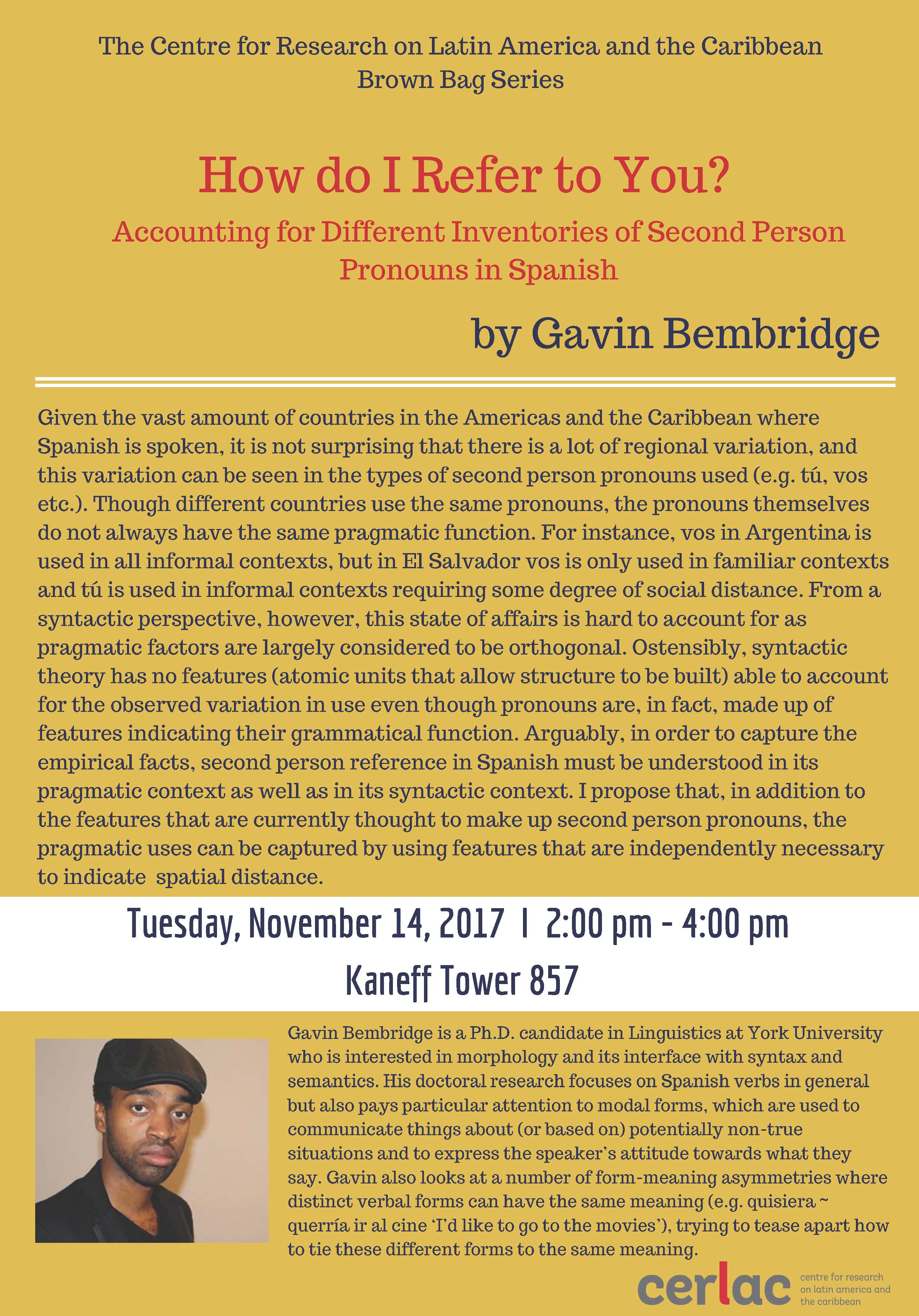 How do I Refer to You? Accounting for Different Inventories of Second Person Pronouns in Spanish
Tuesday, November 14, 2017
Kaneff Tower 857
2:00pm – 4:00pm
All are welcome!
Given the vast amount of countries in the Americas and the Caribbean where Spanish is spoken, it is not surprising that there is a lot of regional variation, and this variation can be seen in the types of second person pronouns used (e.g. tú, vos etc.). Though different countries use the same pronouns, the pronouns themselves do not always have the same pragmatic function. For instance, vos in Argentina is used in all informal contexts, but in El Salvador vos is only used in familiar contexts and tú is used in informal contexts requiring some degree of social distance. From a syntactic perspective, however, this state of affairs is hard to account for as pragmatic factors are largely considered to be orthogonal. Ostensibly, syntactic theory has no features (atomic units that allow structure to be built) able to account for the observed variation in use even though pronouns are, in fact, made up of features indicating their grammatical function. Arguably, in order to capture the empirical facts, second person reference in Spanish must be understood in its pragmatic context as well as in its syntactic context. I propose that, in addition to the features that are currently thought to make up second person pronouns, the pragmatic uses can be captured by using features that are independently necessary to indicate spatial distance.
Gavin Bembridge is a Ph.D. candidate in Linguistics at York University who is interested in morphology and its interface with syntax and semantics. His doctoral research focuses on Spanish verbs in general but also pays particular attention to modal forms, which are used to communicate things about (or based on) potentially non-true situations and to express the speaker's attitude towards what they say. Gavin also looks at a number of form-meaning asymmetries where distinct verbal forms can have the same meaning (e.g. quisiera ~ querría ir al cine 'I'd like to go to the movies'), trying to tease apart how to tie these different forms to the same meaning.