When:
October 16, 2014 @ 2:30 pm – 4:30 pm
2014-10-16T14:30:00-04:00
2014-10-16T16:30:00-04:00
Where:
Kaneff Tower Room 857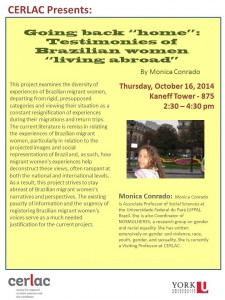 This project examines the diversity of experiences of Brazilian migrant women, departing from rigid, presupposed categories and viewing their situation as a constant resignification of experiences during their migrations and return trips. The current literature is remiss in relating the experiences of Brazilian migrant women, particularly in relation to the projected images and social representations of Brazil and, as such, how migrant women's experiences help deconstruct these views, often rampant at both the national and international levels. As a result, this project strives to stay abreast of Brazilian migrant women's narratives and perspectives. The existing paucity of information and the urgency of registering Brazilian migrant women's voices serve as a much needed justification for the current project.
Monica Conrado: Monica Conrado is Associate Professor of Social Sciences at the Universidade Federal do Pará (UFPA), Brazil. She is also Coordinator of NOSMULHERES, a research group on gender and racial equality. She has written extensively on gender and violence, race, youth, gender, and sexuality. She is currently a Visiting Professor at CERLAC.