When:
November 24, 2016 @ 2:00 pm – 4:00 pm
2016-11-24T14:00:00-05:00
2016-11-24T16:00:00-05:00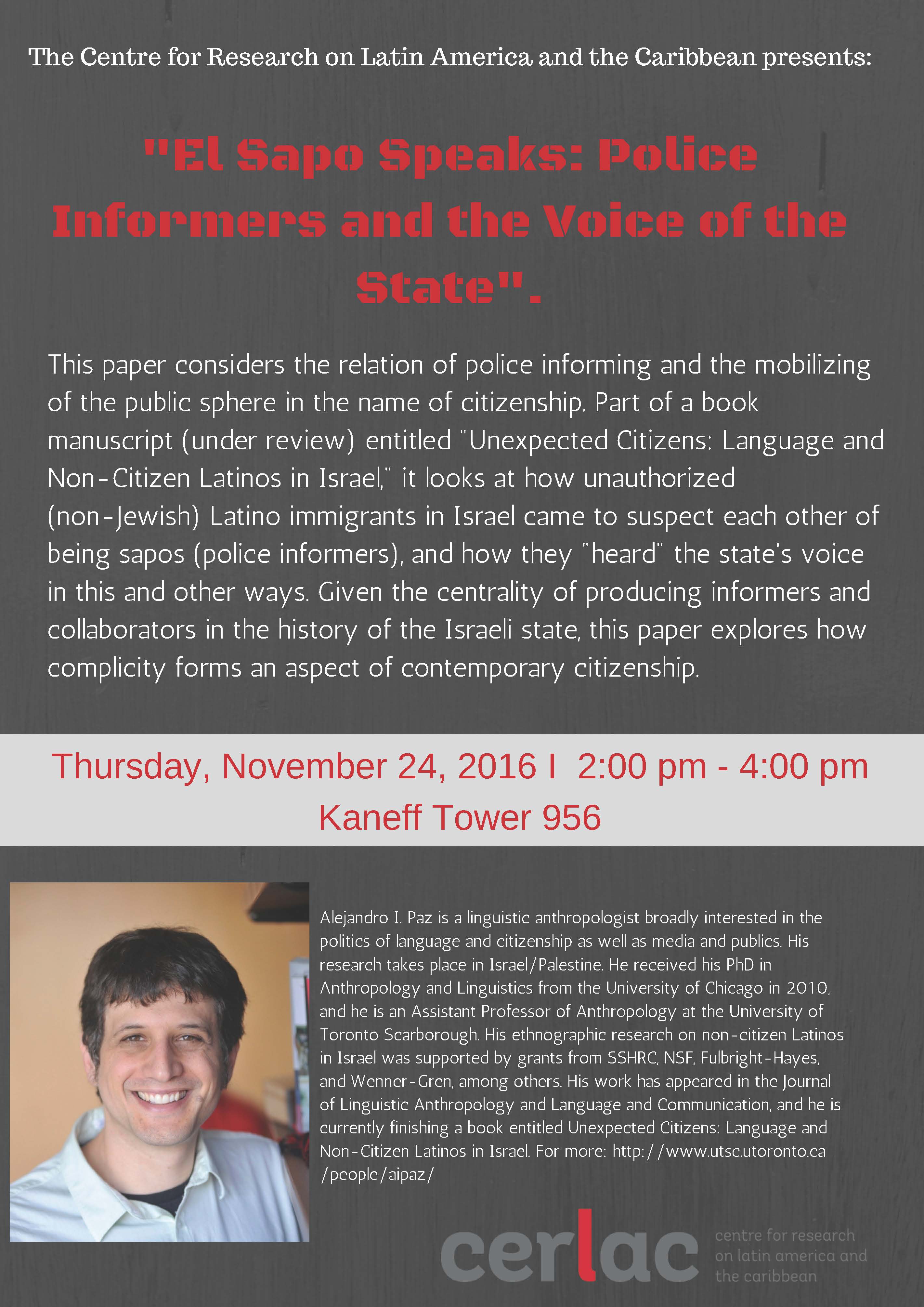 "El Sapo Speaks: Police Informers and the Voice of the State". Talk by Alejandro Paz.  
Thursday, November 24, 2016
Kaneff Tower 956
2:00 pm – 4:00 pm
All are welcome! 
This paper considers the relation of police informing and the mobilizing of the public sphere in the name of citizenship. Part of a book manuscript (under review) entitled "Unexpected Citizens: Language and Non-Citizen Latinos in Israel," it looks at how unauthorized (non-Jewish) Latino immigrants in Israel came to suspect each other of being sapos (police informers), and how they "heard" the state's voice in this and other ways. Given the centrality of producing informers and collaborators in the history of the Israeli state, this paper explores how complicity forms an aspect of contemporary citizenship.
Alejandro I. Paz is a linguistic anthropologist broadly interested in the politics of language and citizenship as well as media and publics. His research takes place in Israel/Palestine. He received his PhD in Anthropology and Linguistics from the University of Chicago in 2010, and he is an Assistant Professor of Anthropology at the University of Toronto Scarborough. His ethnographic research on non-citizen Latinos in Israel was supported by grants from SSHRC, NSF, Fulbright-Hayes, and Wenner-Gren, among others. His work has appeared in the Journal of Linguistic Anthropology and Language and Communication, and he is currently finishing a book entitled Unexpected Citizens: Language and Non-Citizen Latinos in Israel. For more: http://www.utsc.utoronto.ca/people/aipaz/