When:
November 30, 2016 @ 3:00 pm – 4:00 pm
2016-11-30T15:00:00-05:00
2016-11-30T16:00:00-05:00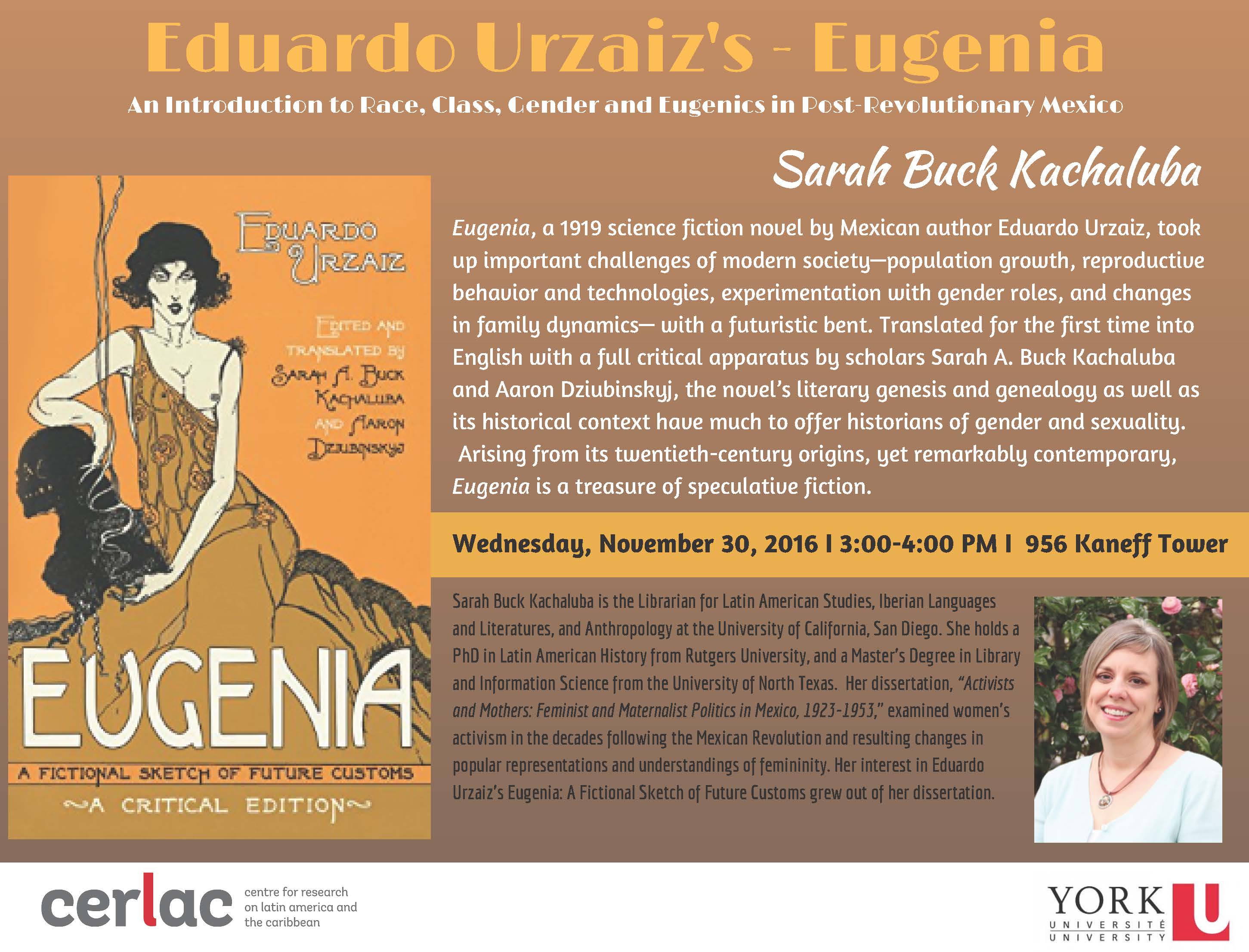 Eduardo Urzaiz's – Eugenia. An Introduction to Race, Class, Gender and Eugenics in Post-Revolutionary Mexico. Talk by Sarah Buck.

Wednesday,  November 30, 2016
Kaneff Tower 956
3:00 pm – 4:00 pm
All are welcome! 
Eugenia, a 1919 science fiction novel by Mexican author Eduardo Urzaiz, took up important challenges of modern society—population growth, reproductive behavior and technologies, experimentation with gender roles, and changes in family dynamics— with a futuristic bent. Translated for the first time into English with a full critical apparatus by scholars Sarah A. Buck Kachaluba and Aaron Dziubinskyj, the novel's literary genesis and genealogy as well as its historical context have much to offer historians of gender and sexuality.  Arising from its twentieth-century origins, yet remarkably contemporary, Eugenia is a treasure of speculative fiction.
Speaker's Bio:
Sarah Buck Kachaluba is the Librarian for Latin American Studies, Iberian Languages and Literatures, and Anthropology at the University of California, San Diego. She holds a PhD in Latin American History from Rutgers University, and a Master's Degree in Library and Information Science from the University of North Texas.  Her dissertation, "Activists and Mothers: Feminist and Maternalist Politics in Mexico, 1923-1953," examined women's activism in the decades following the Mexican Revolution and resulting changes in popular representations and understandings of femininity. Her interest in Eduardo Urzaiz's Eugenia: A Fictional Sketch of Future Customs grew out of her dissertation.