When:
November 23, 2016 @ 3:00 pm – 5:00 pm
2016-11-23T15:00:00-05:00
2016-11-23T17:00:00-05:00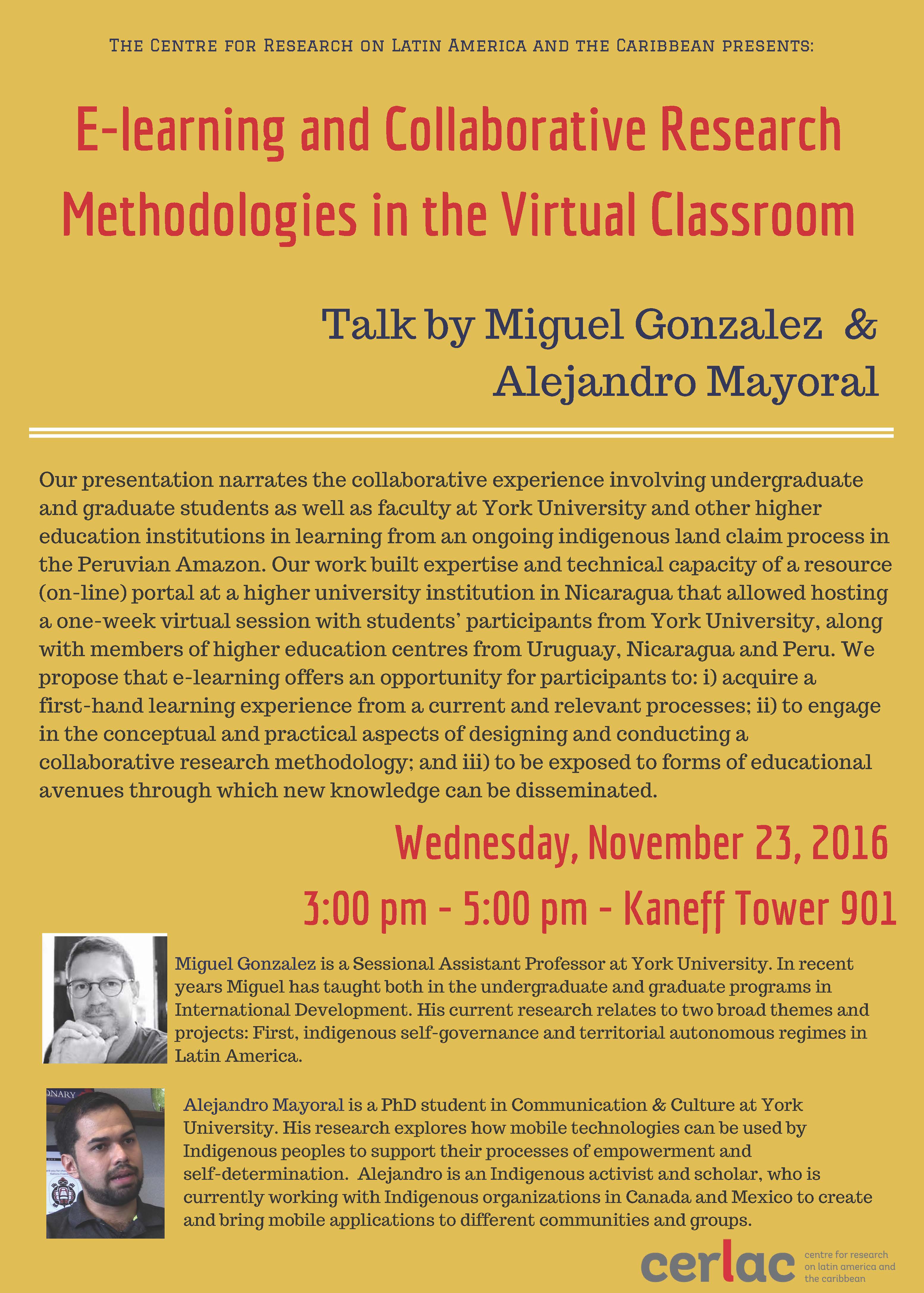 E-learning and Collaborative Research Methodologies in the Virtual Classroom. Talk by Miguel Gonzalez & Alejandro Mayoral.
Wednesday, November 23, 2016
Kaneff Tower 901
3:00 pm – 5:00pm
All are welcome!
This presentation narrates the collaborative experience involving undergraduate and graduate students as well as faculty at York University and other higher education institutions in learning from an ongoing indigenous land claim process in the Peruvian Amazon. Our work built expertise and technical capacity of a resource (on-line) portal at a higher university institution in Nicaragua that allowed hosting a one-week virtual session with students' participants from York University, along with members of higher education centres from Uruguay, Nicaragua and Peru. We propose that e-learning offers an opportunity for participants to: i) acquire a first-hand learning experience from a current and relevant process involving the land claim of an indigenous people in the Amazon; ii) to engage in the conceptual and practical aspects of designing and conducting a collaborative research methodology; and iii) to be exposed to forms of educational avenues through which new knowledge can be disseminated, particularly due to its reliance on modern technologies, such as virtual spaces or e-learning. We see our experience as contributing to decolonizing formal "spaces and places" in higher education institutions through collaborative research and communication information technologies.
Miguel Gonzalez is a Sessional Assistant Professor at York University. In recent years Miguel has taught both in the undergraduate and graduate programs in International Development. His current research relates to two broad themes and projects: First, indigenous self-governance and territorial autonomous regimes in Latin America. On this question he has published extensively (see for instance: http://www.fygeditores.com/fgetnicidadynacion.htm) and he co-edited a themed issue for a specialized academic journal in the field on indigenous studies (http://www.alternative.ac.nz). He co-edited a thematic issue of the Latin America and Caribbean Ethnic Studies Journal (LACES) on the topic of Indigenous Autonomies in Latin America.
Alejandro Mayoral is a PhD student in Communication & Culture at York University.His research explores how mobile technologies can be used by Indigenous peoples to support their processes of empowerment and self-determination.  Alejandro is an Indigenous activist and scholar, who is currently working with Indigenous organizations in Canada and Mexico to create and bring mobile applications to different communities and groups. He has experience leading, collaborating and participating in different projects around Indigeneity and volunteerism in Mexico, Canada, Peru, Chile and Bolivia.