When:
September 24, 2015 @ 10:15 am – 11:30 am
2015-09-24T10:15:00-04:00
2015-09-24T11:30:00-04:00
Where:
Kaneff Tower Room 956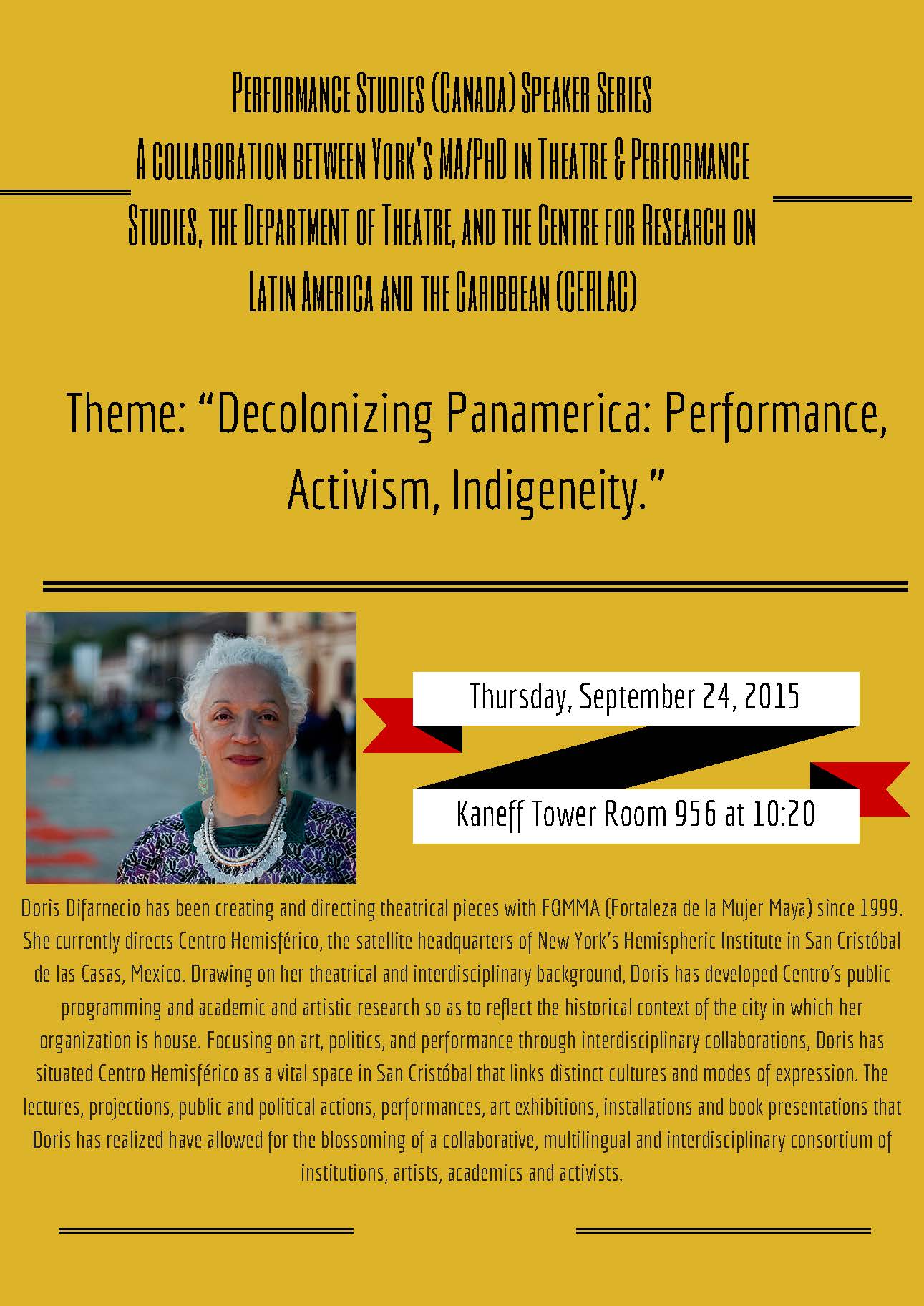 Decolonizing Panamerica: Performance, Activism, Indigeneity
September 24, 2016
10:20 - 11:30
956 Kaneff Tower
We are very are pleased to announce the launch of this year's Performance Studies (Canada) Speaker Series, which will take place this year as a collaboration between York's MA/PhD in Theatre & Performance Studies, the Department of Theatre, and the Centre for Research on Latin America and the Caribbean (CERLAC). In 2015-16, all events will be organized around the theme of "Decolonizing Panamerica: Performance, Activism, Indigeneity."
We are delighted to kick off the series with a visit from Doris Difarnecio, Director of Centro Hemisferico in Chiapas, Mexico. Centro Hemisferico is an interdisciplinary arts space located in San Cristóbal de las Casas, and a satellite headquarters of NYU's Hemispheric Institute of Performance and Politics developed in collaboration with Fortaleza de la Mujer Maya (FOMMA), an internationally renowned collective of Indigenous women who use theatre as a tool for education and community building. Difarnecio has been instrumental in developing Centro Hemisperico's public programming around art, politics, and performance, directed theatre pieces with FOMMA since 1999, and has created a number of important urban interventions in response to femicide in Mexico.
1. Upcoming Workshops 
Difarnecio will be leading two performance workshops open to students from across the university. The workshop will explore corporal and gestural techniques in popular theatre, with a focus on how engaging with the politics of body and memory can open up diverse strategies in performance. As there will be a limited number of spaces, please send an email to Professor Laura Levin at levin@yorku.ca in order to sign up for one of the workshops.
Workshop 1 will be held on: Tuesday September 22, 2:30-5:30pm and Friday September 25, 8:30-11:30am, Location: Accolade East 207
Workshop 2 will be held on: Wednesday September 23, 11:30-2:30pm and Friday September 25, 11:30-2:30pm, Location: Accolade East 207
2. Upcoming Lecture 
Difarnecio will give a talk and visual presentation on her popular theatre work with FOMMA and the urban performance actions and installations she has staged against femicide in the region of Chiapas, Mexico.Time: 
Thursday September 24, 10:30-11:20am 
Location:  Kaneff Tower 956
The lecture is free and open to the public.
Special thanks to our sponsors: York's Department of Theatre, Graduate Program in Theatre and Performance Studies, Performance Studies (Canada) Project, Centre for Research on Latin America and the Caribbean, Canadian Consortium on Performance and Politics in the Americas, Office of the Vice-Provost Academic, Pan Am/Parapan Am Games @ York