When:
October 24, 2019 @ 6:30 pm – October 26, 2019 @ 5:00 pm
2019-10-24T18:30:00-04:00
2019-10-26T17:00:00-04:00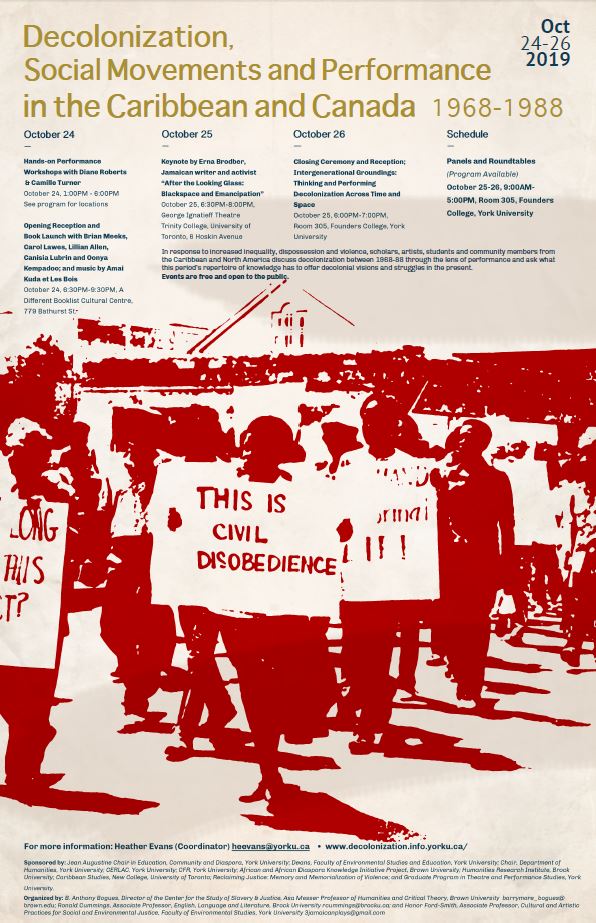 Decolonization, Performance and Social Movements in the Caribbean and Canada (1968-1988).
October 24-26, York University, Toronto.
In response to increased inequality, dispossession and violence, scholars, artists, students and community members from the Caribbean and North America discuss decolonization between 1968-88 through the lens of performance and ask what this period's repertoire of knowledge has to offer decolonial visions and struggles in the present.
Hands-On Performance Workshops with Diane Roberts and Camille Turner October 24, (Diane Roberts) 1:00-3:00 PM, Dance Annex, 527 Bloor W.; (Camille Turner) 3:00-6:00 PM Media Commons Theatre, University of Toronto, Robarts Library 3rd Fl., 130 St. George St.
Opening Reception and Book Launch of The Coup Clock Clicks by Brian Meeks; Featuring Readings by Carol Lawes,Lillian Allen, Canisia Lubrin, Oonya Kempadoo; Music by Amai Kuda et Les Bois October 24, 6:30-9:30 PM, A Different Booklist, 779 Bathurst St.
Keynote Lecture: Erna Brodber, Jamaican Writer and Activist "After the Looking Glass" October 25, 6:30-8:00 PM, George Ignatieff Theater, Trinity College, University of Toronto, 6 Hoskin Avenue
Panels and Roundtables  (Program Available)
October 25-26, 9:00 AM-5:00 OM, 305 Founders College, York University
**All Events Are Free and Open to the Public**
Sponsored by:
Jean Augustine Chair in Education, Community and Diaspora, York University; Deans, Faculty of Environmental Studies and Education, York University; Chair, Department of Humanities, York University; CERLAC, York University; CFR, York University; African and African Diaspora Knowledge Initiative Project, Brown University; Humanities Research Institute, Brock University; Women and Gender Studies Institute, University of Toronto, Reclaiming Justice: Memory and Memorialization of Violence.
For More Information Contact:
Heather Evans (Coordinator) heevans@yorku.ca   www.decolonization.info.yorku.ca/
Organized by:
Organized by:
B. Anthony Bogues, Director of the Center for the Study of Slavery & Justice, Asa Messer Professor of Humanities and Critical Theory, Brown University. barrymore_bogues@brown.edu
Ronald Cummings, Associate Professor, English, Language and Literature, Brock University. rcummings@brocku.ca
Honor Ford-Smith, Associate Professor, Cultural and Artistic Practices for Social and Environmental Justice, Faculty of Environmental Studies, York University 3jamaicanplays@gmail.com