When:
October 5, 2016 @ 2:00 pm – 4:00 pm
2016-10-05T14:00:00-04:00
2016-10-05T16:00:00-04:00
Where:
Kaneff Tower Room 901 (Ninth Floor)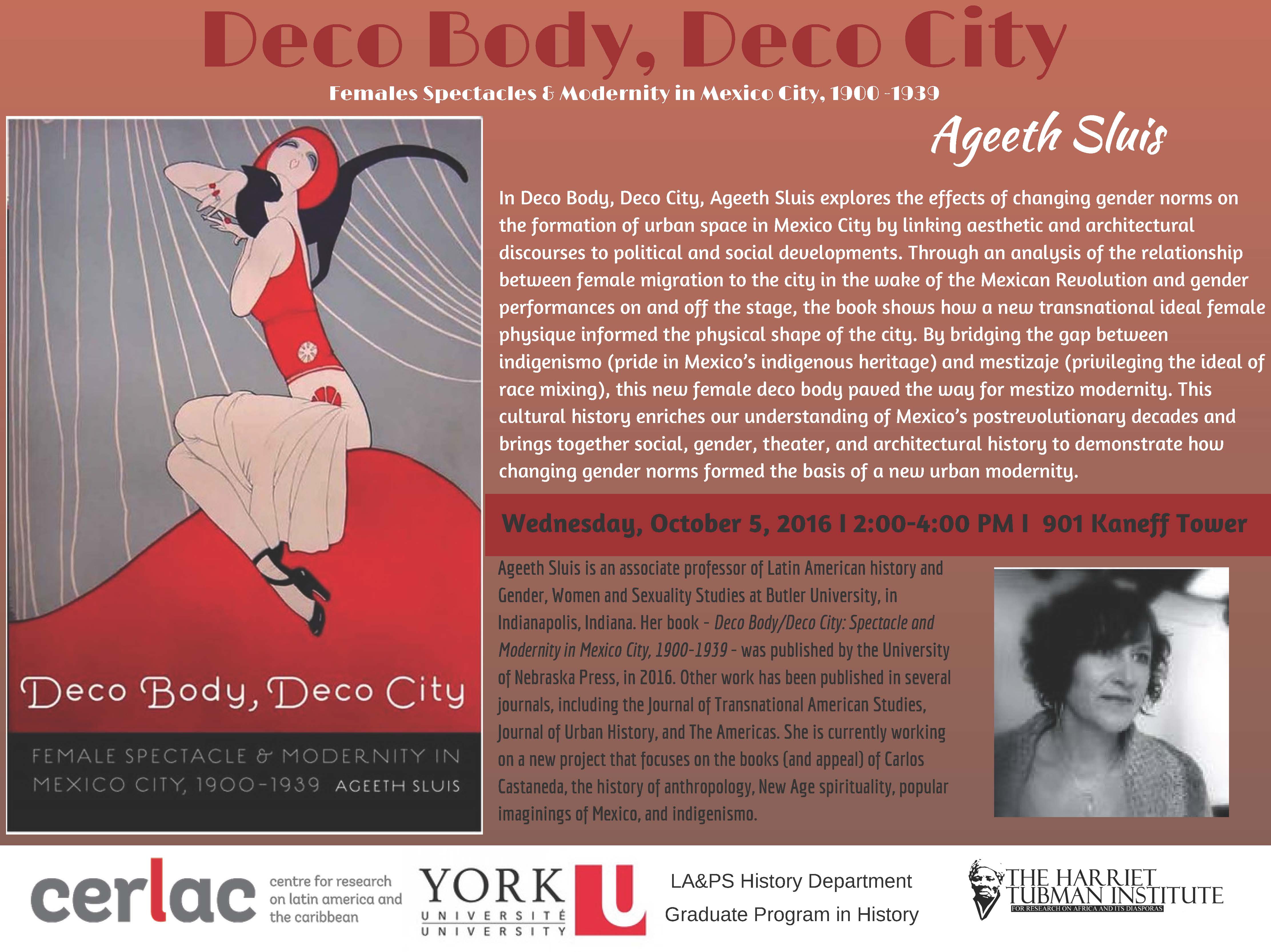 Deco Body, Deco City: Females Spectacles & Modernity in Mexico City, 1900-1939.
Wednesday, October 5, 2016
Kaneff Tower 901
2:00 – 4:00
Please join the Professor Sluis and the students of History 5562 (Comparative Twentieth Century Gender and Women's History) for an open discussion of Professor Sluis's work on gender, race, performance and architecture in Revolutionary Mexico.
 About the Talk: In Deco Body, Deco City, Ageeth Sluis explores the effects of changing gender norms on the formation of urban space in Mexico City by linking aesthetic and architectural discourses to political and social developments. Through an analysis of the relationship between female migration to the city in the wake of the Mexican Revolution and gender performances on and off the stage, the book shows how a new transnational ideal female physique informed the physical shape of the city. By bridging the gap between indigenismo (pride in Mexico's indigenous heritage) and mestizaje (privileging the ideal of race mixing), this new female deco body paved the way for mestizo modernity. This cultural history enriches our understanding of Mexico's postrevolutionary decades and brings together social, gender, theater, and architectural history to demonstrate how changing gender norms formed the basis of a new urban modernity.
Speaker Bio: Ageeth Sluis is an associate professor of Latin American history and Gender, Women and Sexuality Studies at Butler University, in Indianapolis, Indiana. Her book Deco Body/Deco City: Spectacle and Modernity in Mexico City, 1900-1939  was published by the University of Nebraska Press, in 2016. Other work has been published in several journals, including the Journal of Transnational American Studies, Journal of Urban History, and The Americas. She is currently working on a new project that focuses on the books (and appeal) of Carlos Castaneda, the history of anthropology, New Age spirituality, popular imaginings of Mexico, and indigenismo.