When:
September 24, 2015 @ 2:30 pm – 5:00 pm
2015-09-24T14:30:00-04:00
2015-09-24T17:00:00-04:00
Where:
Kaneff Tower Room 626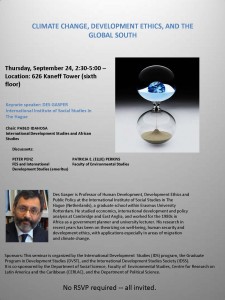 Keynote speaker: DES GASPER
International Institute of Social Studies in The Hague
Chair: PABLO IDAHOSA
International Development Studies and African Studies
Discussants:
PETER PENZ
FES and International Development Studies (emeritus)
PATRICIA E. (ELLIE) PERKINS
Faculty of Environmental Studies
No RSVP required -- all invited.
Des Gasper is a Professor of Human Development, Development Ethics and
Public Policy at the International Institute of Social Studies in The
Hague (Netherlands), a graduate school within Erasmus University
Rotterdam. He studied economics, international development and policy
analysis at Cambridge and East Anglia, and worked for the 1980s in
Africa as a government planner and university lecturer. His research in
recent years has been on theorising on well-being, human security and
development ethics, with applications especially in areas of migration
and climate change.
Sponsors: This seminar is organized by the International Development
Studies (IDS) program, the Graduate Program in Development Studies
(DVST), and the International Development Studies Society (IDSS). It is
co-sponsored by the Department of Social Science, Faculty of
Environmental Studies, Centre for Research on Latin America and the
Caribbean (CERLAC), and the Department of Political Science.