When:
November 30, 2017 @ 12:00 pm – 2:00 pm
2017-11-30T12:00:00-05:00
2017-11-30T14:00:00-05:00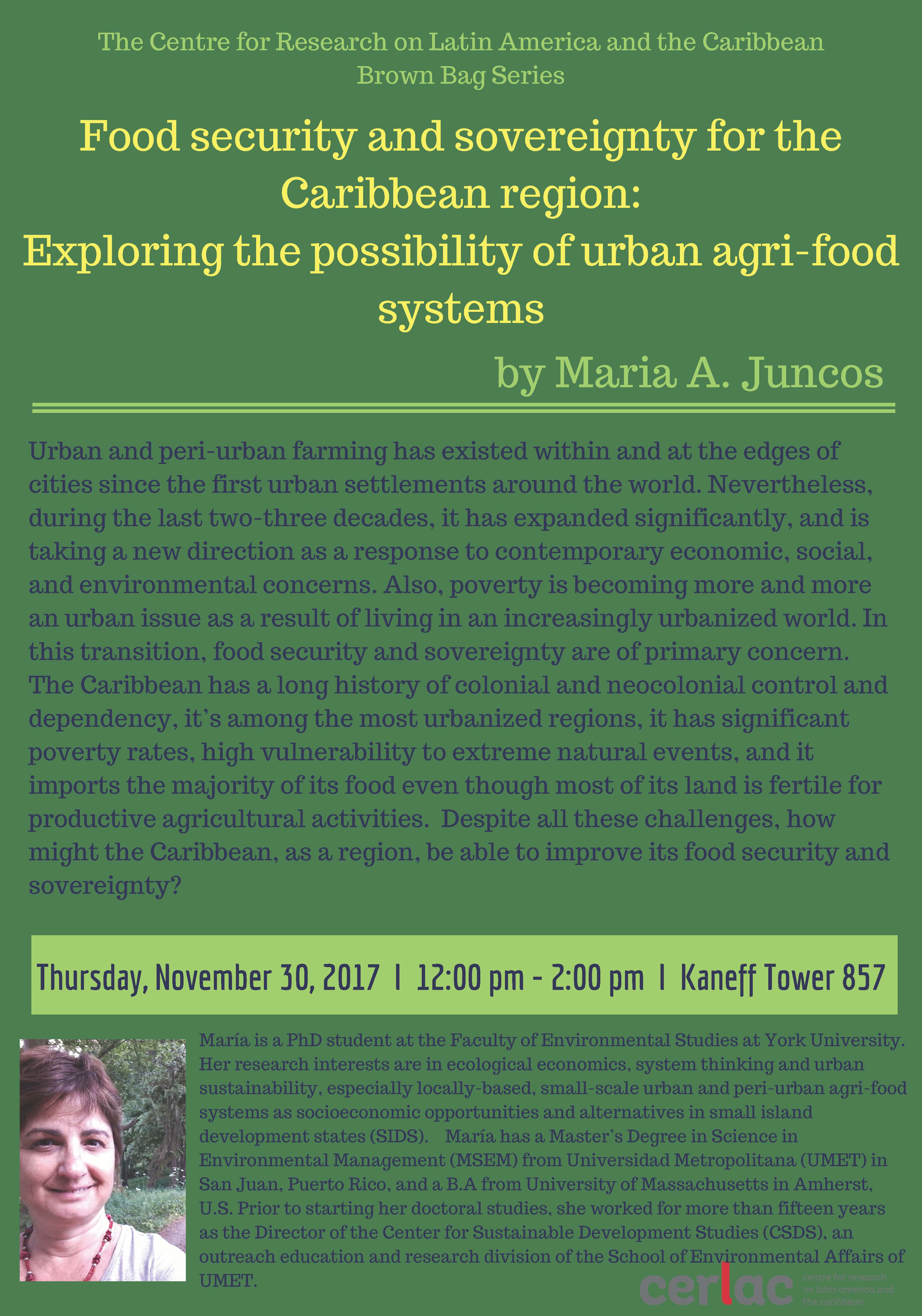 CERLAC Brown Bag Series:
Food security and sovereignty for the Caribbean region: Exploring the possibility of urban agri-food systems.

Thursday, November 30, 2017
Kaneff Tower 857
12:00pm - 2:00pm
All are welcome!
Urban agriculture has been defined as an "industry located within (intra-urban), or on the fringe (peri-urban) of a town, a city or a metropolis, which grows and raises, processes and distributes a diversity of food and non-food products, (re)using largely human and material resources, products and services found in and around that urban area, and in turn supplying human and material resources, products and services largely to that urban area."  The Caribbean has a long history of colonial and neocolonial control and dependency, it's among the most urbanized regions in the world (particularly around coastal areas), it has significant poverty rates, high vulnerability to extreme natural events, and it imports the majority of its food even though most of its land is fertile for productive agricultural activities. Despite all these challenges, how might the Caribbean, as a region, be able to improve its food security and sovereignty?
María A Juncos is a PhD student at the Faculty of Environmental Studies at York University. Her research interests are in ecological economics, system thinking and urban sustainability, especially locally-based, small-scale urban and per-urban agri-food systems as socioeconomic opportunities and alternatives in small island development states (SIDS).    María has a Master's Degree in Science in Environmental Management (MSEM) from Universidad Metropolitana (UMET) in San Juan, Puerto Rico, and a B.A from University of Massachusetts in Amherst, U.S. Prior to starting her doctoral studies, she worked for more than fifteen years as the Director of the Center for Sustainable Development Studies (CSDS), an outreach education and research division of the School of Environmental Affairs of UMET.