When:
September 8, 2015 @ 1:00 pm – 2:30 pm
2015-09-08T13:00:00-04:00
2015-09-08T14:30:00-04:00
Where:
Kaneff Tower Room 626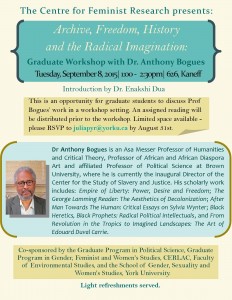 The Centre for Feminist Research presents:
Archive, Freedom, History and the Radical Imagination:
Graduate Workshop with Dr. Anthony Bogues
Tuesday, September 8, 2015 | 1:00 - 2:30pm | 626, Kaneff
Introduction by Dr. Enakshi Dua

This is an opportunity for graduate students to discuss Prof Bogues' work in a 
workshop setting. An assigned reading will be distributed prior to the workshop. 
Dr Anthony Bogues is an Asa Messer Professor of Humanities and Critical Theory,
Professor of African and African Diaspora Art and affiliated Professor of Political 
Science at Brown University, where he is currently the inaugural Director of the 
Center for the Study of Slavery and Justice. His scholarly work includes: Empire 
of Liberty: Power, Desire and Freedom; The George Lamming Reader: The 
Aesthetics of Decolonization; After Man Towards The Human: Critical Essays on 
Sylvia Wynter; Black Heretics, Black Prophets: Radical Political Intellectuals, 
and From Revolution in the Tropics to Imagined Landscapes: The Art of Edouard 
Duval Carrie.
Co-sponsored by the Graduate Program in Political Science, Graduate Program 
in Gender, Feminist and Women's Studies, CERLAC, Faculty of Environmental 
Studies, and the School of Gender, Sexuality and Women's Studies, York 
University.
Light refreshments served.