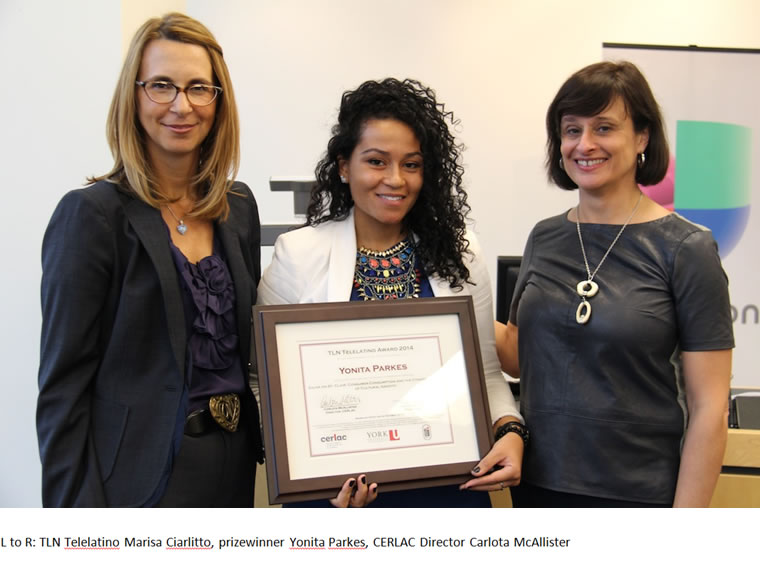 CERLAC is pleased to announce the winner of the TLN Telelatino Award 2014 for an outstanding undergraduate work on the Hispanic experience in Canada.
The winner of this year's prize is Yonita Parkes. The title of her essay is "Salsa on St. Clair: Consumer Consumption and the Construction of Cultural Identity."
Parkes' paper explores the relationship of Toronto's Salsa on St. Clair street festival to the production of Latin American identity in dominant Canadian society.
It offers a compelling discussion of the implications of the use of ethnic commodification in the gentrification process of Toronto's St. Clair West, the Hillcrest Village BIA, and Ward 21 for the construction of Latin American identity, particularly of women, in Toronto.
The paper will soon be available online as part of CERLAC's TLN Telelatino Award series.
All of the nominated papers represent high-caliber scholarly work at their authors' respective levels of study and merit recognition as worthy of candidacy for this prize.
The Prize was established in 2009 by a donation made to York University by Telelatino (TLN), a Canadian television channel that broadcasts programs of interest to the Hispanic and Italian communities. This $1000 prize is awarded annually to undergraduate student at York University in recognition of an outstanding scholarly work of relevance to the Hispanic experience in Canada.
Congratulations to all this year's nominees, and especially to the prize winner!