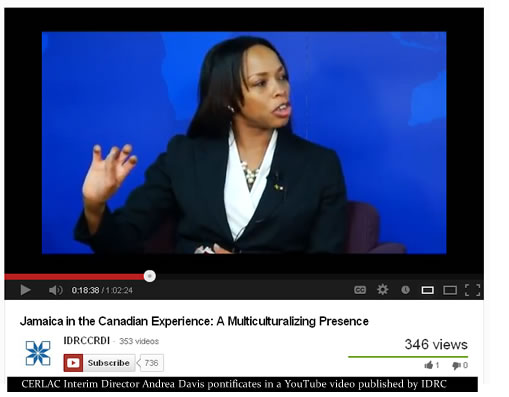 CERLAC Fellows Carl James and Andrea Davis (Interim Director of CERLAC), whose co-edited book, Jamaica in the Canadian Experience: A Multiculturalizing Presence, has been referenced in prior CERLAC News, feature together in an hour-long IDRC (International Development Research Centre) online video.
The video, part of the "IDRC Lectures" series, captures the discussion between the co-editors and the President of IDRC, David Malone, on the subject of the book: the contributions Jamaica and Jamaicans have made to Canadian society. The panel discussion took place on November 29, following the Ottawa-based launch of the book.
The video can be viewed here.
From IDRC's description of the YouTube video:
On August 6, 2012, Jamaica celebrated 50 years of independence from Britain. Since then, Jamaica has had an increasingly powerful influence on global culture. The growth of Jamaican diasporas beyond Britain to the United States, Canada, and West Africa has served to strengthen Jamaica's global reach. Today Jamaica's cultural, economic, and political achievements are felt way beyond its national borders.
Jamaica in the Canadian Experience, edited by Andrea Davis and Carl E. James, commemorates Jamaica's independence by acknowledging the immense and widespread contributions Jamaica and Jamaicans have made to Canadian society. These contributions were discussed by the editors at a panel following the official launch of the anthology.
Panelists: Carl E. James, Director of the York Centre for Education and Community in the Faculty of Education at York University; Andrea Davis, Acting Director of the Centre for Research on Latin America and the Caribbean at York University; IDRC President, David Malone, chaired the panel.