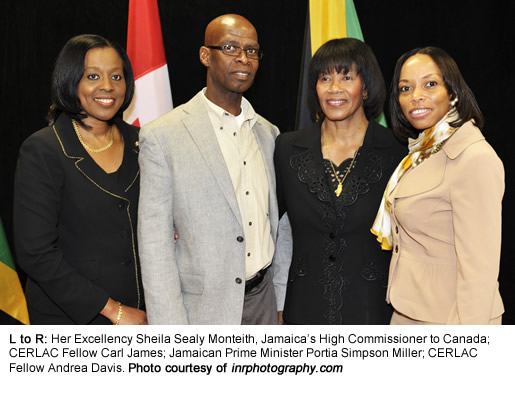 On 25 October 2012, CERLAC Fellow Carl James and Director Andrea Davis attended a reception at the Jamaican Canadian Centre in Toronto to mark 50 years of bilateral relations between Canada and Jamaica. At that reception, the Prime Ministers of both Jamaica and Canada were presented with copies of James' and Davis' co-edited book, Jamaica in the Canadian Experience: A Multiculturalizing Presence. The reception was one of several events planned as part of a week-long official visit to Canada by Jamaican PM Portia Simpson Miller at the invitation of Canadian PM Stephen Harper. This was the first state visit by the Jamaican PM since her re-election in December 2012. The visit was cut short by PM Simpson Miller's early return to Jamaica to oversee the island's response to Hurricane Sandy.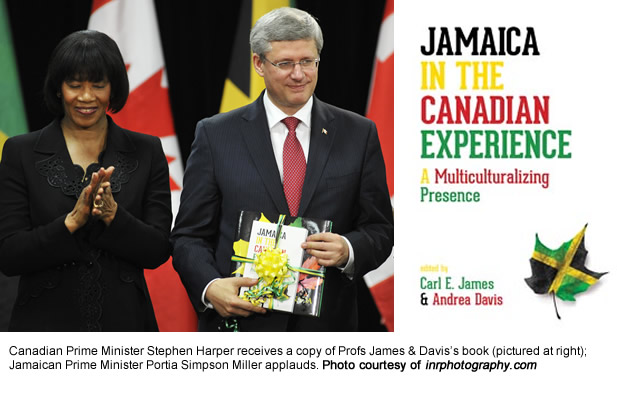 At the reception Harper acknowledged the contributions of close to 300,000 Jamaican immigrants in Canada, and both PMs confirmed their commitment to continue to build political and economic relationships between the two countries. Andrea Davis said of the occasion: "The visit of Jamaican Prime Minister Simpson Miller in a year that marks both 50 years of Independence from Britain and 50 years of bilateral relations between Canada and Jamaica was timely and symbolic. For thousands of Jamaicans who have made Canada home, it was a symbolic moment registering their pride in their dual national connections and long contributions to Canadian society. The fact that Prime Minister Simpson Miller was first invited on an official visit to Canada and not England or the United States in this groundbreaking year would have been particularly meaningful for these immigrants, since Jamaican diasporic communities in Canada are often overshadowed in research and the global media by larger communities in New York, Florida and London, England. It is my hope that the meaning of this visit, and indeed this year, will move beyond the symbolic to realize more tangible results, such as a positive revaluation of Jamaican youth identities in Toronto."
Regarding their co-edited book, Prof. James stated: "The book is our attempt to intervene into, or interrupt/disrupt, the seemingly prevailing uncomplimentary discourse of Jamaican Canadians. The contributors, representing the diversity of Canadians of Jamaican heritage (including many second generation), signify the many voices, expertise and perspectives of individuals who, in fundamental ways and for centuries, have helped to shape Canada as we know it today. We hope that the essays provide new understandings of us as Canadians who are fully engaged in the economic, cultural, educational and social existence of the country rather than marginal to it. That Prime Ministers Stephen Harper and Portia Simpson Miller now have copies means for us that they too will be similarly informed like the rest of Canadians and Jamaicans."
Andrea Davis interviewed on Radio Canada International about Canada-Jamaica relations and the reality of Jamaican Canadians:
From Radio Canada International, 25 october 2012 - Jamaican Canadian realities and PM Simpson Miller's visit to Canada Jamaican Prime Minister Portia Simpson Miller's first official visit to Canada was supposed to last five days, and end on Friday. It ended early because of Hurricane Sandy, and the Prime Minister's return to Jamaica. However, in her few days here, she met with Canada's Prime Minister Stephen Harper and other Canadian officials, as well as members of the Jamaican Diaspora. RCI's Wojtek Gwiazda spoke to Professor Andrea Davis about Canada-Jamaica relations and the reality of Jamaican Canadians. Davis is the Director of the Centre for Research on Latin America and the Caribbean (CERLAC) at Toronto's York University and co-editor of the book "Jamaica in the Canadian Experience: A Multiculturalizing Presence"
Click on the "Listen" button here to listen to the interview with Prof. Davis.
See also the related Y-File story