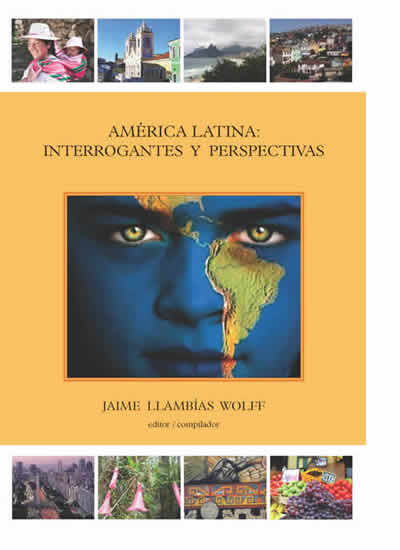 For CERLAC Fellow Jaime Llambías Wolff, the principal accomplishment of his new edited volume is that it offers us a means "to think about Latin America from a XXI Century perspective on a variety of subjects... I wanted to tackle some of the important challenges confronting the region, knowing at the same time that it is impossible to cover everything."
From the book jacket (translated from the Spanish): The world is getting smaller all the time, and yet more difficult to comprehend... These are embryonic times of profound change, offering opportunities for positive change. How does the global context effect Latin Americans? What is the place of Latin America in the 21st Century? What challenges must it confront? This book critically, and from a plurailty of perspectives, investigates a variety of themes relagted to the region's future. The contributors offer insights into the pressing issues confronting this evemore interdependent region.
Table of Contents:
INTRODUCCIÓN Jaime LLambías Wolff
A. ECONOMÍA POLÍTICA Y DESARROLLO
América Latina: por una economía de equilibrio frente a los mitos del crecimiento - Gunter F.Trapp
Energía, economía y cambio climático: sinergia insustentable - Alejandro Yáñez Arancibia, John W. Day & Charles A. S. Hall
La geopolítica ambiental global: el desafío del cambio climático para América Latina - Fernando Estenssoro Saavedra
Tendencias políticas en América Latina en el contexto mundial del siglo XXI: Hacia una Teoría Política Realista-Sistémica-Estructural sobre América Latina - Luis Dallanegra Pedraza
Desafíos de un neo regionalismo emergente en América Latina y El Caribe - Raúl Allard Neumann
B. PARTICIPACIÓN CIUDADANA Y POLÍTICA
La izquierda en América Latina: tendencias y distinciones - Ernesto Ottone
Ciudadanía, cultura política y reforma del Estado en América Latina - Willem Assies (in memoriam), Marco Antonio Calderón & Ton Salman
Los partidos y la profesionalización de la política en América Latina - Manuel Alcántara Sáez
C. MOVIMIENTOS SOCIALES
Movimientos sociales y partidos políticos en América Latina - María Fernanda Somuano
El movimiento feminista en América Latina. Su recorrido y las condiciones de inequidad de género - Clotilde Hernández Garnica & Ma. Elena Camarena Adame
Pluralismo étnico, cultural y jurídico y los derechos indígenas en América Latina - Simone Rodrigues Pinto & Carlos Federico Domínguez Ávila
¿América Latina ya no es católica? El incremento del pluralismo cultural y religioso - Cristián Parker Gumucio
Las dimensiones de la acción colectiva en América Latina - Manuel Antonio Garretón M.
D. CONOCIMIENTO, CIENCIA Y EDUCACIÓN
Los desafíos del mañana y la transdisciplina, para pasar del saber al comprender - Manfred Max-Neef
La educación intercultural: entre la igualdad y la diferencia - Martín Hopenhayn
Sociotecnología: un paradigma constructivista radical para América Latina - Carlos Vignolo
Jóvenes de Enseñanza Media Técnico Profesional e inserción laboral: brechas y desafíos - Marcelo Charlín de Groote & Sonia Reyes Herrera
Las políticas públicas para la Sociedad de la Información en América Latina: la importancia de los sistemas regionales de innovación - Susana Finquelievich
E. POLÍTICAS SOCIALES Y DE SALUD
Los paradigmas de Estado y el condicionamiento de las prestaciones sociales en la restructuración del bienestar - Amaia Inza Bartolomé
Sistemas de salud en América Latina: la complejidad de las reformas que requiere el siglo XXI - Jorge Ernesto Pérez Lugo
La salud y sus desafíos a futuro: interrogantes teóricas e implicaciones prácticas - Jaime LLambías Wolff