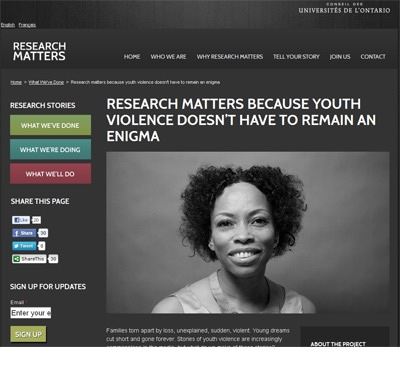 CERLAC'S new Director: As of July 1 2012, CERLAC has a new Director – the first Caribbeanist scholar to assume the role in the Centre's 34-year history. Prof. Andrea Davis was confirmed by the Office of the Vice-President Research & Innovation (VPRI) and the Dean of LA&PS as incoming interim director in March 2012. The decision is warmly welcomed by the members of the Centre's Executive Committee, who unanimously supported her recommendation to the role. Andrea's appointment is for an interim period of one year; full Director hirings have been postponed, pending the outcome of a VPRI-driven process of reform to the structure of research units at York.
Prof. Davis has served as Deputy Director of the Centre since 2008. She worked closely with outgoing Director Prof. Eduardo Canel in the realization of the Centre's achievements during his term (2007-2012), assuming primary responsibility for the strengthening of Caribbean research and student programming (including the CERLAC Graduate Diploma Program, of which she was coordinator).
She delivered with great effect on all of her commitments: establishing a new Caribbean lecture series; increasing Caribbeanist membership and involvement in the Centre; drawing a sizable contingent of Caribbeanist students into active association; and launching and leading a major SSHRC-funded research project with a Caribbean focus (described further below) that, although underway only a year to date, has already very deservedly received significant attention and acclaim. She also oversaw the introduction of a new model of student engagement at the Centre, culminating in the creation of a committee of very dedicated and energetic students under whom student-led intiatives and activities flourished. As a Humanities-based scholar in a Centre in which the social sciences have traditionally been more strongly represented, especially at the level of leadership, Andrea has also helped to reinforce the interdisciplinary character of the Centre.
Prof. Davis' research focuses on the literary productions of black women in the Americas. She is interested in the intersections of the literatures of the Caribbean, the United States and Canada and her work encourages an intertextual cross-cultural dialogue about black women's experiences in diaspora. She is currently working on a comparative study that theorizes the complex ways in which gender, place and voice intersect in black women's discursive practices. She is also co-editing, with Carl James, an anthology that charts the political, economic, historical and cultural connections between Canada and Jamaica. Book title: Jamaica in Canada: A Multiculturalizing Presence. Halifax, Nova Scotia: Fernwood Publishing. 320 pages in typescript (in press, expected publication fall 2012).
"I am confident that she will make a wonderful Director and cannot think of a better colleague to direct the Centre in the upcoming period as we continue to intensify and diversify our research activities", said Prof. Canel.
Project profiled in provincial campaign extolling the value of university research: On the research front, Prof. Davis' ongoing major SSHRC-funded project, Youth and Community Development in Canada and Jamaica: A Transnational Approach to Youth Violence, is featured by the Council of Ontario Universities (COU) in its recently-launched (May 2012) "Research Matters" campaign - a campaign showcasing the importance and relevance of research at Ontario universities. The campaign, which will run through 2013, entails a website and blog, as well as province-wide public events.
As described in the Y-File article highlighting this recognition of her project: "The campaign profiles the work Davis is doing to alleviate the causes of youth violence. Through her research, Davis is working with community partners to help black youth in Canada and Jamaica challenge physical and systemic violence and find new paths toward social and civic engagement. Her work helps young people form new social identities through participation in the arts, social history and literature".
Prof. Davis' project brings together three community organizations and 18 researchers from six universities in Canada and Jamaica, organized in three research clusters. It seeks to realize critical social improvements in the lives of youth, ages 16 to 29, by exploring new approaches to research in youth violence. The partnership situates its team of Canadian and Jamaican researchers and community workers within an emerging body of research that confirms the success of culturally based programs in encouraging youth and broad civic engagement. The partnership expands this existing research in two important ways. First, it includes a transnational approach between the two countries. The goal is to examine whether positive youth engagement through the arts might be further enhanced for black youth in Canada and Jamaica by bringing these youth into conversations across their intersecting national and cultural borders. Second, by using an approach that combines art-based programs with social history and literature, the partnership expands the research field by seeking to determine whether a greater understanding of Jamaican society might help black Toronto youth achieve the positive identity formation needed to challenge unhealthy behaviour, including violence.
"It is quite an honour to have been selected for this campaign by York and by the COU," observes outgoing CERLAC Director Prof. Eduardo Canel. "The project integrates research, knowledge co-production and knowledge mobilization effectively, demonstrating how collaborative partnerships involving academics and civil society groups can make a significant difference in the lives of marginalized and racialized people in Canada and Jamaica."
Teaching Award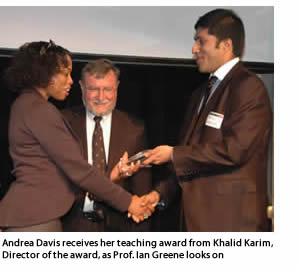 These accomplishments notwithstanding, Prof. Davis' competance as a project manager and administrator cannot outshine her standing as a teacher. Anyone who has ever spoken about her with them will know that Prof. Davis is very much loved by her students; indeed, not long ago York's student newspaper Excalibur (4 Feb 2011) featured an article that celebrated her as a great source of inspiration in the classroom.
So it is little surprise that Prof. Davis was the 2011 Professor recipient of the Ian Greene Award for Teaching Excellence. The award "formally recognizes professors and teaching assistants (TAs) within LA&PS [York's Faculty of Liberal Arts & Professional Studies] who, like Professor Ian Greene, have contributed to student life so immeasurably by being great teachers and leaders." Recipients are nominated by students. In Prof. Davis' case, the adjudication committee informed her, "both the number of nominations [she] received as well as the strength of the comments concerning [her] creative and innovative teaching methodology secured [her] victory. ...The committee was blown away by the fact that while this professor received the highest nominations, she also received double the number of comments of any professor."
The tone and content of students' comments tell the rest of the story. They speak of the democratic, respectful and inclusive atmosphere she cultivates, encouraging mutal support among her students; of her willingness to engage difficult subjects and, with warmth and compassion, to help the students to relate them to their own experiences - and then to take this learning outside the classroom into extracurricular activism and research pursuits. In their own words:
"It is evident that the Professor is passionate about her work ... She displays great enthusiam for her course and posesses an understanding, open and approachable personality. She has challenged me (as well as others) to think critically and has been a true inspiration. She embodies what I believe it truly means to be a great educator."
"This professor is one of the few that really loves what she is doing and truly believes that the material she teaches matters, not only for students to receive good grades, but on a higher level. She is kind, intelligent and inspirational."
"This professor is one of the most professional, passionate, influential, and positive professors I have encountered during my academic career. York is very fortunate to have such a committed educator and representative of the university."
"As a researcher and educator, teaching has always been one of my passions," says Prof. Davis in her own teaching statement. "The research I do has little meaning if it cannot engage meaningful dialogues about who we are and who we hope to become. For many students coming to African Diaspora Studies, their learning is a personal journey. They are seeking answers to questions that have historically been silenced or ignored within North American high school systems—questions that are difficult and painful to articulate. For many of these students my courses are the first chances they have to critically engage discussions about black history and cultures in the African diaspora. ... Teaching is a difficult task, if only because in my own learning I often have to face 'truths' I would rather not acknowledge. Teaching is also enormously rewarding. I believe, like bell hooks, in the efficacy of an 'engaged pedagogy.' The research, the texts, the discussions in the classroom, all have meaning way beyond the context of the university and the academic requirements of an undergraduate degree. The expectations and needs are multiple and varied, and I have to accept that they cannot all be met. I do not have many answers, but I can facilitate the processes of interchange; I can open up the dialogue and help students push the boundaries and break down some of the barriers."
Her CERLAC collagues congratulate Prof. Davis on receiving this well-deserved formal recognition of her outstanding qualities as a pedagogue, already so clearly apparent in the oft-expressed sentiments of her alumni.