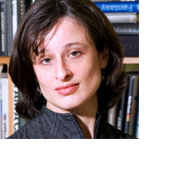 As former Director Eduardo Canel steps aside and Andrea Davis takes his place, slipping into Andrea's former shoes as Deputy Director is CERLAC Fellow Prof. Carlota McAllister (Anthropology). Carlota has already distinguished herself as a very active member of the Executive and Fundraising committees of CERLAC.
Prof. Canel opines: "Carlota McAllister will be excellent as CERLAC's next Deputy Director. She has shown herself to have the necessary knowledge and experience to work effectively alongside Andrea to lead CERLAC in the year ahead. She knows the Latin American region well and has research experience in Central America and the Southern Cone of South America. I am confident that she will continue to build CERLAC's work in Latin America and that she will help foster new and exciting collaborative research and knowledge mobilization projects."
"I'm extremely pleased to be working alongside Carlota," adds Prof. Davis. "She brings extensive knowledge of and research expertise in Latin America that will help CERLAC duplicate the balanced regional and interdisciplinary approach of the last four years."
Carlota is freshly returned from a sabbatical year in which she advanced her research on community responses to hydro projects in the Aisen region of Chile.