Giselle F. Thompson
PhD Candidate in Sociology, York University
Department: Research Associate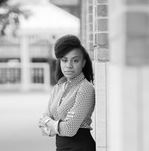 Giselle Thompson is doctoral student in the Department of Sociology at York University. She is ABD, having completed comprehensive exams in The Sociology of Global Development and The Sociology of Education. She hopes to defend her postulations and research findings on the implications of national debt for public education spending in Jamaica, and the barriers that limited financing present to the operationalization of the United Nations Convention on the Rights of a Child in educational settings. Giselle's dissertation project is an expansion of her masters thesis, entitled "IMF-induced Fiscal Austerity and Education in Jamaica."
Giselle obtained her Masters degree in Sociology from the University of Toledo in 2014, Bachelor of Arts degree in Sociology (Honours-With Distinction) from Niagara University in 2012 and Social Service Worker Diploma from Seneca College in 2010.
Having been raised in tandem by Jamaican-Canadian parents and grandmothers who came from humble beginnings but championed service, Giselle perceives her work as an organic extension of these intrinsic motivators. Today, as a sociologist, she is in pursuit of answers to her questions on the matters of poverty, inequality, development, underdevelopment and the like in the hopes of engaging in meaningful-activist scholarship and practitionary work.
Country(ies) or Region(s) of Specialization: The Caribbean and Latin America; primarily Jamaica.
Keywords: Development, Education, Access, Poverty, Inequality, Colonialism, Neocolonialism, Race