One of CERLAC's goals is to foster a community that values high quality research and academic activities. We organize events and activities to achieve our aim of a well-rounded disciplinary education for York University students. For that reason CERLAC supports a series of events, such as lectures, speaking series, conferences, workshops and student organize brown bags throughout the year.
If you would like to receive notifications of our upcoming events, please click here to sign up for our mailing list.
If you would like to initiate a new event, please fill out the events application form and send it to CERLAC's Coordinator, Camila Bonifaz at cbonifaz@yorku.ca.
Sep
25
Tue
2018
CERLAC Graduate Student Orientation Session
Sep 25 @ 2:00 pm – 4:00 pm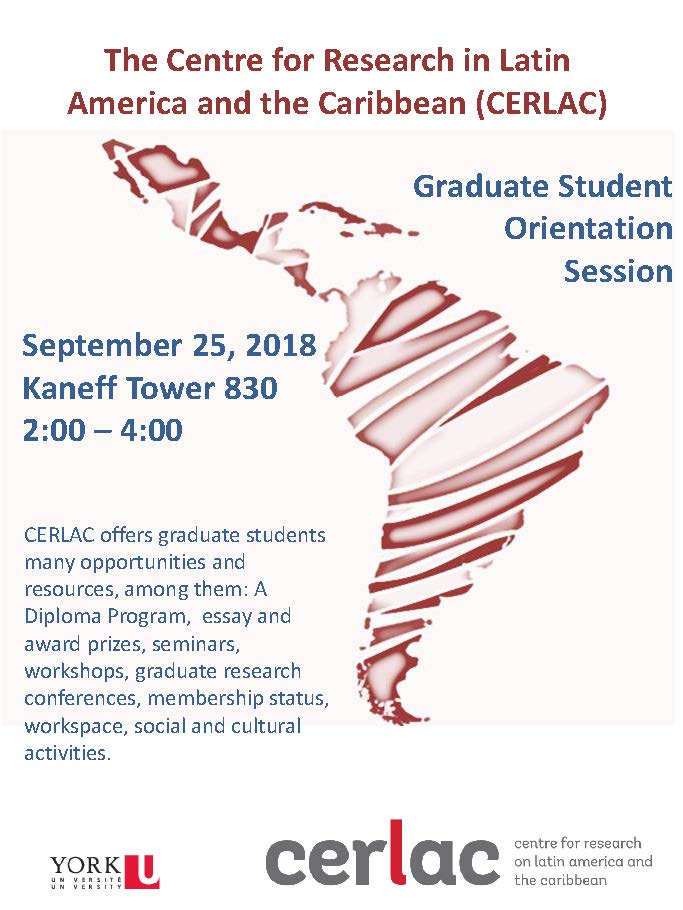 CERLAC Graduate Student Orientation Session
Thursday, September 25, 2018
Kaneff Tower 830
2:00pm – 4:00pm
All are welcome!
CERLAC offers graduate students many opportunities and resources, among them: A Diploma Program, essay and award prizes, seminars, workshops, graduate research conferences, membership status, workspace and social and cultural activities.
Come and learn more about the centre, meet graduate students with similar interests, and learn how you can become involved.
Sep
27
Thu
2018
Women Warriors and National Heroes: Global Perspectives
Sep 27 @ 9:00 am – Sep 28 @ 6:00 pm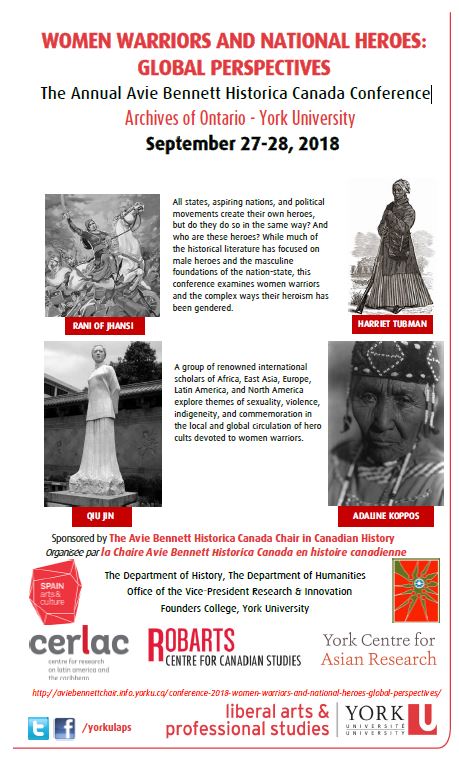 Women Warriors and National Heroes: Global Perspectives
Date: Thursday, September 27-28, 2018
Place: Archives of Ontario - York University

All states, aspiring nations, and political movements create their own heroes, but do they do so in the same way? And
who are these heroes? While much of the historical literature has focused on male heroes and the masculine foundations of the nation-state, this conference examines women warriors and the complex ways their heroism has been gendered.
A group of renowned international scholars of Africa, East Asia, Europe, Latin America, and North America explore themes of sexuality, violence, indigeneity, and commemoration in the local and global circulation of hero cults devoted to women warriors.
Link to the conference's website: http://aviebennettchair.info.yorku.ca/conference-2018-women-warriors-and-national-heroes-global-perspectives/
Sponsored by The Avie Bennett Historica Canada Chair in Canadian History
Organisée par la Chaire Avie Bennett Historica Canada en histoire canadienne
The Department of History, The Department of Humanities
Office of the Vice-President Research & Innovation
Founders College, York University
CERLAC - Centre for Reserach on Latin America and the Caribbean
Robarts - Centre for Canadian Studies
YCAR - York Centre for Asian Research
LA&PS
Spain Ats & Culture
"Translating Jacques Viau Renaud's Black Internationalist Testimony". Guest Speaker: Dr. Raj Chetty
Sep 27 @ 6:30 pm – 8:30 pm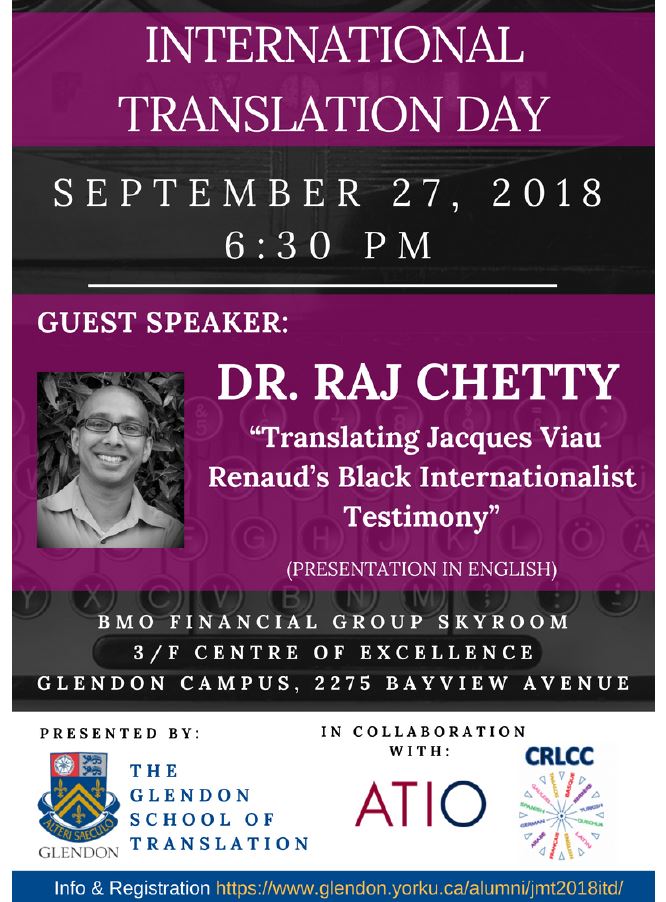 International Translation Day: "Translating Jacques Viau Renaud's Black Internationalist Testimony".  Guest Speaker: Dr. Raj Chetty
Date: September 27, 2018
Time: 6:30PM
Place: Glendon Campus, 2275 Bayview Avenue
Dr Raj Chetty short bio: An assistant professor of English at St. John's University in Queens, NY, Raj Chetty specializes in Caribbean literature across English, Spanish, and French, with a focus on black and African diaspora. His current project, titled "On Refusal and Recognition": Disparate Blackness in Dominican Literary Culture, studies blackness in Dominican literary and expressive cultures from the 1940s through the present. The book analyzes street and popular theater, baseball and literature, 1960s literary and cultural journals and groups, and includes studies of Aída Cartagena Portalatín, Junot Díaz, Jacques Viau Renaud, and Frank and Reynaldo Disla. It is under advance contract with SUNY Press's "Afro-Latinx Futures"series. Chetty is the co-editor of a special issue of The Black Scholar on "Dominican Black Studies,"and his essays on C. L. R. James, Eric Walrond, Reynaldo Disla, Una Marson, and Frank Disla have appeared in Callaloo, Anthurium, Palimpsest: A Journal on Women, Gender, and the Black International, Afro-Hispanic Review, and Meridional: Revista Chilena de Estudios Latinoamericanos.